Aug 17, 2021 04:23 PM Central
Karen Yong



I'm back! It's time for us to pull out another super valuable oil from your kit and start using it. Hopefully, you've continued to use your other oils and are seeing fantastic results!

Today we are going to get out your bottle of Citrus Fresh. This oil blend is a must-have if you have any of the following: kids, teenagers, pets, trash cans, stinky basements, or dirty laundry. However, if none of these sound like something you need, then you still need this blend. Its basic properties include mental clarity, energizing and purifying!

Combining Orange, Tangerine, Grapefruit, Lemon, and Mandarin oils with a hint of Spearmint, this blend offers an uplifting, refreshing aroma that you can diffuse to transform home, work, and classroom spaces. Using it topically comes with the bonus benefit of the citrus oils working together to tone and smooth the appearance of skin.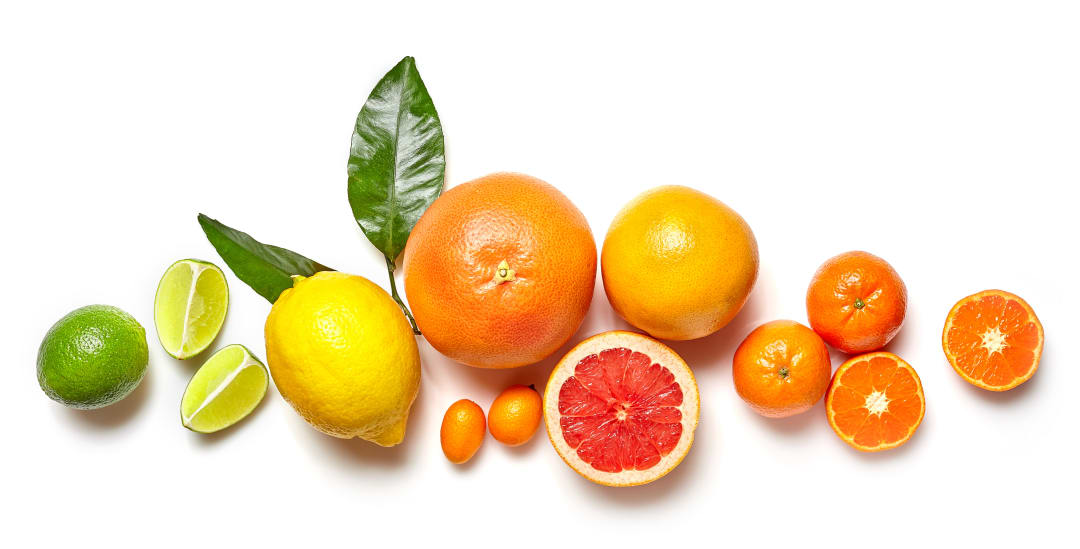 I once heard it said that Citrus Fresh was somewhat like a "magic stink-eraser" and I love that analogy because it is true! But this oil blend is so much more, as can be seen by the two different bottles!
Again, I want to clarify the two different bottles of Citrus Fresh oils that Young Living sells:
Citrus Fresh™ Vitality™ Therapeutic-Grade Essential Oil Supplement
Citrus Fresh™ Therapeutic-Grade Essential Oil
The classic oils and the corresponding bottles of Vitality oils contain the very same oils. However, Vitality oils are labeled for dietary use and the classic essential oils are labeled for topical and aromatic use. The white-labeled bottles are the "Vitality" oil supplement. Your kit comes with the Citrus Fresh™ Vitality™ version. ===========================================================================================
DO THIS FIRST: I am going to bet you have already opened this bottle and smelled it! You might agree with me that this one smells great. I absolutely love how fresh and "alive" it smells.

Grab your diffuser for this one. Set it up with 4-6 drops of Citrus Fresh and start diffusing. While it is diffusing, leave the room for about 5 minutes and then come back in. Doesn't that smell fresh & clean? It does, and you can feel wonderful that the beautiful aroma is not full of chemicals! SECRET: See, even though this one is labeled for internal use, it is the same oil as is in the other bottle, and you can diffuse it if you'd like, and I'll bet you'll love it.

THEN TRY THIS: Dilute with any scent-free carrier oil, such as fractionated coconut oil or grapeseed oil, and wear as a perfume! If you like this, you can mix up any blend in a 5 or 10 ml roller bottle and create your own customized scent.
Replace Chemical-Based
Home Fragrances with this Spritzer
Citrus Fresh oil is a perfect replacement for chemical-based home fragrances—just combine a few drops with distilled water in a spray bottle and spritz throughout rooms and closets and over linens. You'll enjoy the uplifting citrusy scent every time you make the bed or open a closet door.
Add 10 drops to an 8-ounce bottle of distilled water, shake well, and spritz onto clothing, carpet or other fabric to freshen things up, like odors, including cigarette and pet odors.
Have you ever cooked fish, broccoli, or some other odiferous foods, and just as you get dinner cleaned up, someone comes over? This used to mortify me. I used to apologize because it truly does stink when you walk into it after the fact!
Now you will never need to feel embarrassed by bad odors from cooking, laundry, pets, or anything else life throws your way. Diffuse Citrus Fresh or even spritz it in the rooms throughout your house or use the spritzer to target a few specific places.
---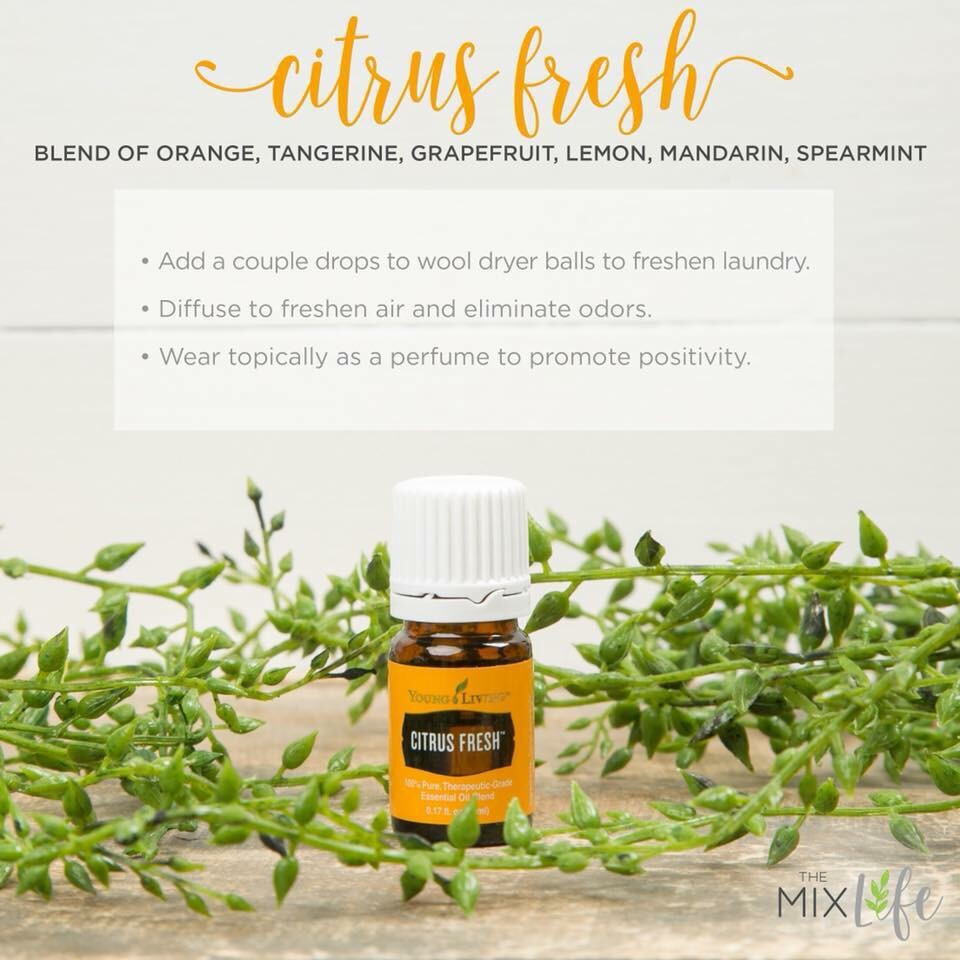 More ways to Use Citrus Fresh
™
Blend
Dilute Citrus Fresh essential oil in a 1:1 ratio with your favorite night moisturizer and apply to skin for smoother-looking, more radiant-looking skin. Because some citrus oils can cause photosensitivity, avoid applying to exposed skin before spending time outside.
Try diffusing it after cooking to freshen up the air and help eliminate strong odors that linger in your kitchen.
Diffuse Citrus Fresh in your home, office, or classroom for an aroma that invites positivity and energy.
Do you have mustiness in your basement or some other enclosed area? Try diffusing it there to freshen up the air.
Add a few drops to a cotton ball or paper towel, and place in the bottom of trash bins or diaper pails.
Add a few drops to a cotton ball and stick inside a pair of stinky shoes or gym bag.
Add a few drops to a cotton ball and put it in your car air vents to freshen up inside your car (works on any vehicle, actually).
Create an on-the-go air freshener with a spray bottle, distilled water, and Citrus Fresh. Keep it in your bag to freshen up offices, public restrooms, hotel rooms, and cars.


Try this: Add 10 drops of Citrus Fresh and 10 drops of Peace & Calming to a 10 ml bottle, top off with the scent-free carrier oil of your choice, pop the roller on top and voila, you've made your own all natural perfume!

Remember to exercise caution when using any citrus oils on skin exposed to the sun. I'd recommend not applying this particular blend to your neck area if you are going out in the sun.

You can purchase 10 ml roller bottles on Amazon. Or better yet, recycle your empty 5 and 15 ml oil bottles and purchase roller fitments from Young Living.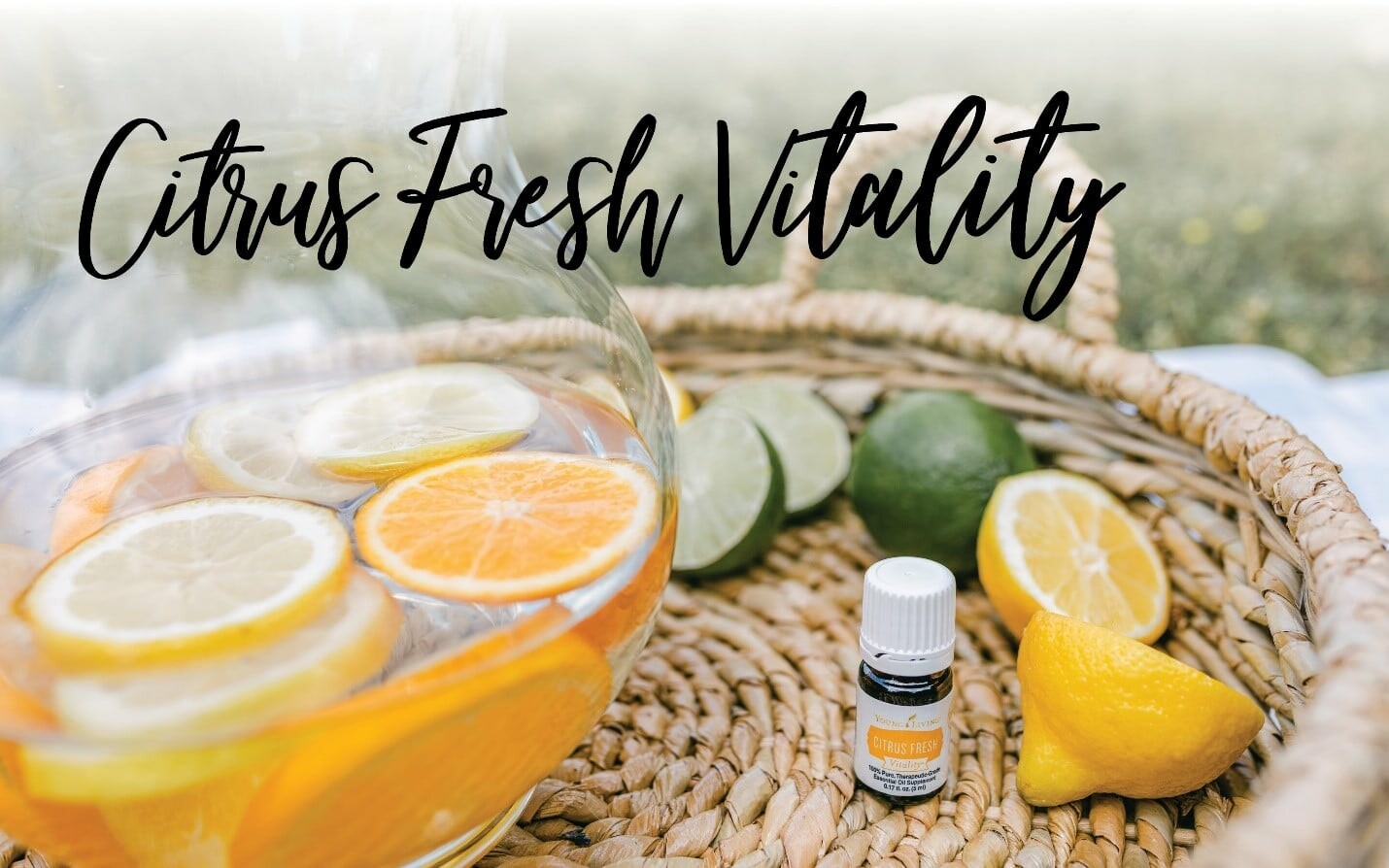 This brings me to the Citrus Fresh™ Vitality™ Essential Oil
This invigorating and pleasant blend is an ideal addition to water, fruit and vegetable juices, and NingXia Red®. Simply add a drop or two to your 2-oz. serving of NingXia Red for a zip of flavor and freshness.
Add to other fruity treats for a citrus boost to your indulgences.
Yes, Citrus Fresh Vitality tastes great, but it also makes a great dietary supplement! Just add 1–2 drops to a vegetarian gel capsule and take as needed to support general wellness.
Keep hydrated by giving your daily intake of water a burst of flavor. Infuse your water by adding 2–3 drops to a glass or bottle of water.
Use Citrus Fresh Vitality in recipes such as fruit salads, salad dressings, and marinades to enhance the flavor.
Add a couple drops to your favorite Young Living nutritional products and supplements such as Slique Tea, NingXia Zyng, NingXia Red, and Mineral Essence.
Add 1–2 drops to your water or drinks each day or whenever you're looking for a quick burst of nutrients and flavor.
---
RESEARCH TIME: Again, as is sometimes the case, there is just so much that I want to say about this blend, but the FDA says I can't. You could certainly do a Google Images search for Young Living's Citrus Fresh Essential Oil Blend and see the ways some people are using this blend. Just be careful not to share any images that contain health or disease claims.
Additionally, the constituents limonene, beta-pinene, and linalool all naturally occur in the Citrus Fresh blend and are worthy of your research. Doing a short Google search for each of these words will certainly open the vision to the value of this blend and why it also comes in the Vitality line of oils (for ingestion), far greater than just helping things smell fresh!
---
Now you can actually ditch overpowering and harsh chemical-based sprays and keep your home smelling fresh and clean, using all-natural ingredients! Here's to you using your Citrus Fresh! Make up a small spritzer of it and let a friend try it too!
I hope you're enjoying the information I'm sharing. As always, I'd love to visit with you if you have questions!
~Karen
Aug 9, 2021 03:11 PM Central
Karen Yong
---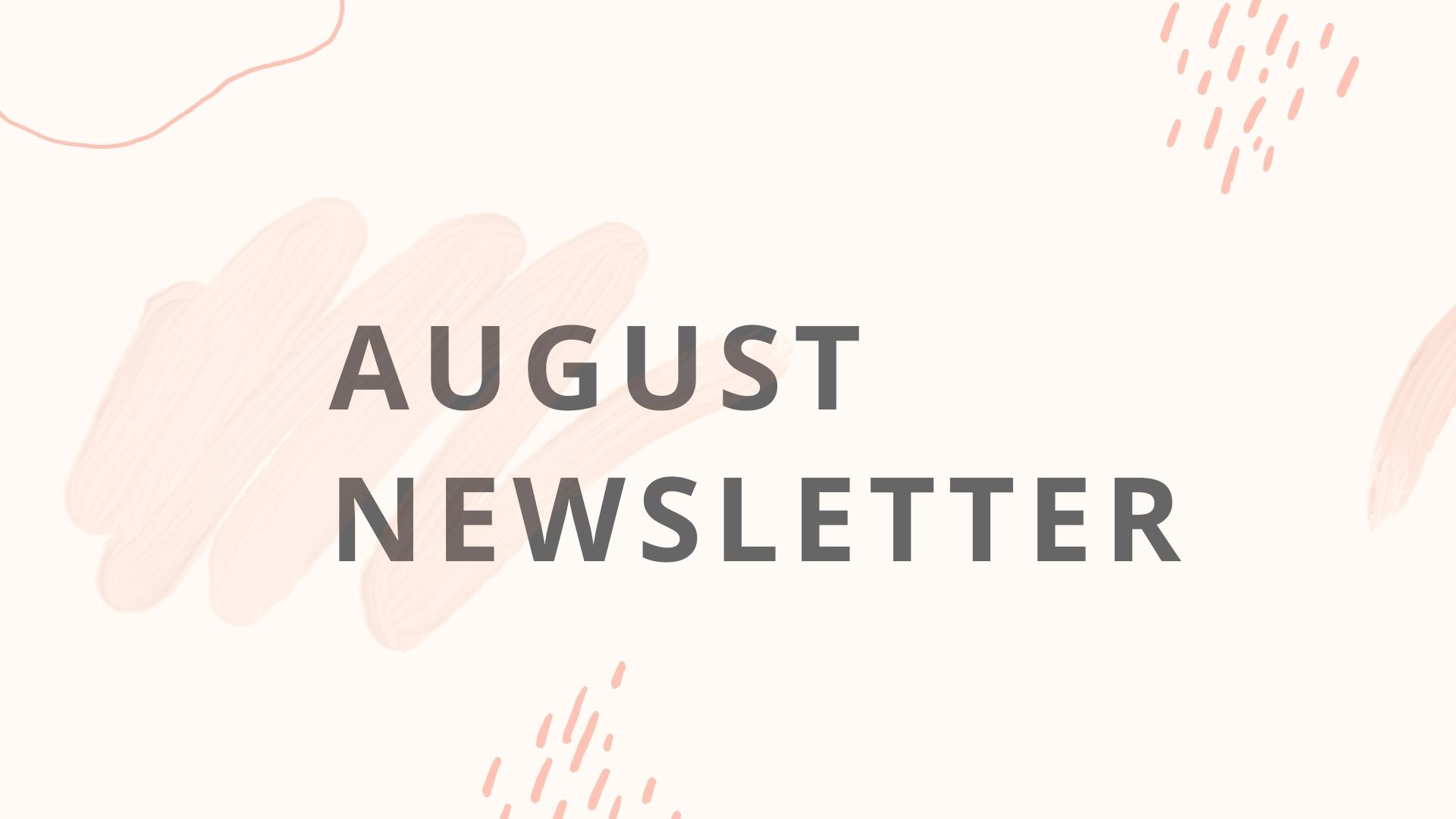 Happy August!
Did you know August 1st is considered National Friendship Day? What a fun way to celebrate all the loved ones that surround you! One of my favorite ways to show my friends some love is by sharing my oils with them. Check out some of these simple recipes you can easily whip up for your friends…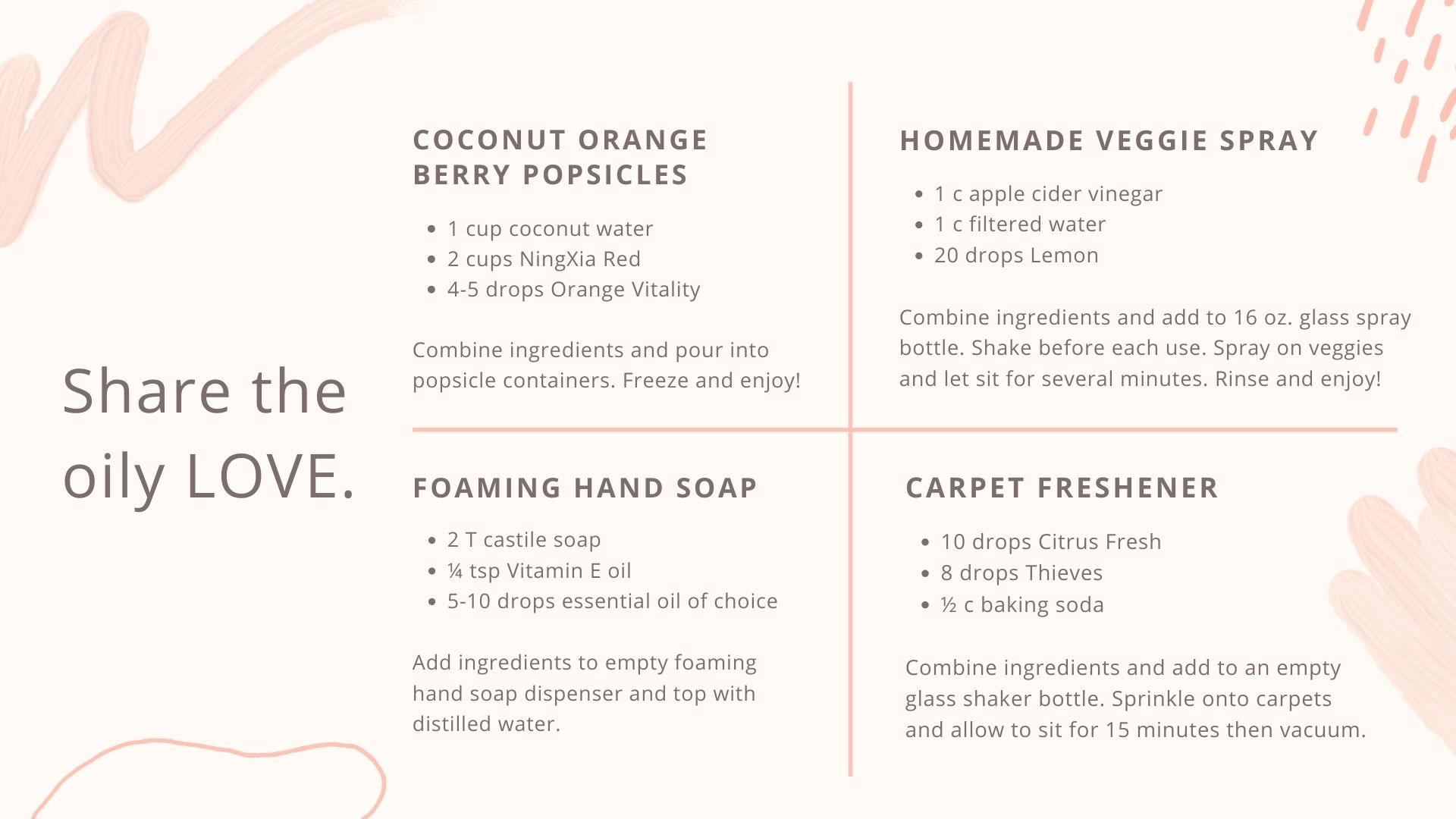 :::::::::::::::::::::::::::::::::::::::::::::::::::::::::::::::::::::::::::::::::::::::::::::::::::::::::::::::::::::::::::
Star or flag this message so you can refer back to it all month long!
You'll hear all about…
Important Announcements
Upcoming Events
Featured Products
Monthly YL Promos
Important Announcements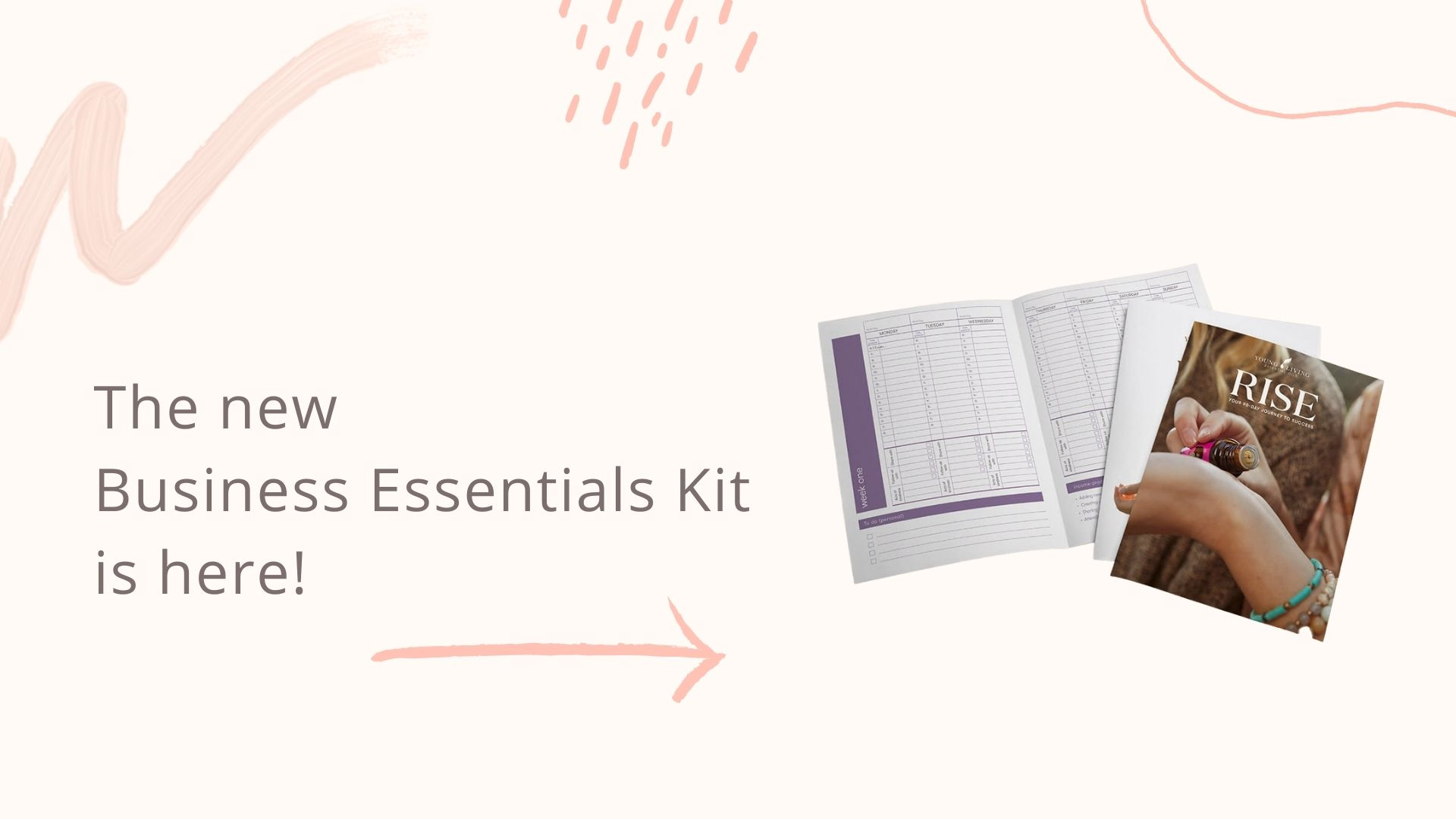 The new Business Essentials Kit is here!
Ready to turn your passion for Young Living products into a successful business venture? Start strong with the Business Essentials Kit - it comes with everything you need to create and grow your essential oils business and it's available for $29.95.
With this kit, you'll be able to brainstorm income-producing activities that work for you, craft your YL story, and plan a daily schedule of to-dos that help you meet your goals.
Your kit includes:
RISE booklet: a step-by-step guide with tips, training videos, and worksheets

RISE 90-day planner: a planning calendar for setting and tracking your business goals

RISE to Royal brochure: a guide through the perks that await you at every rank within YL

YL Insights card: a snapshot of how YL Insights can help you manage your business

Silver Bound flyer: a road map for structuring your team for success

90-day trial to MyYL: a must-have for building your business website and sharing YL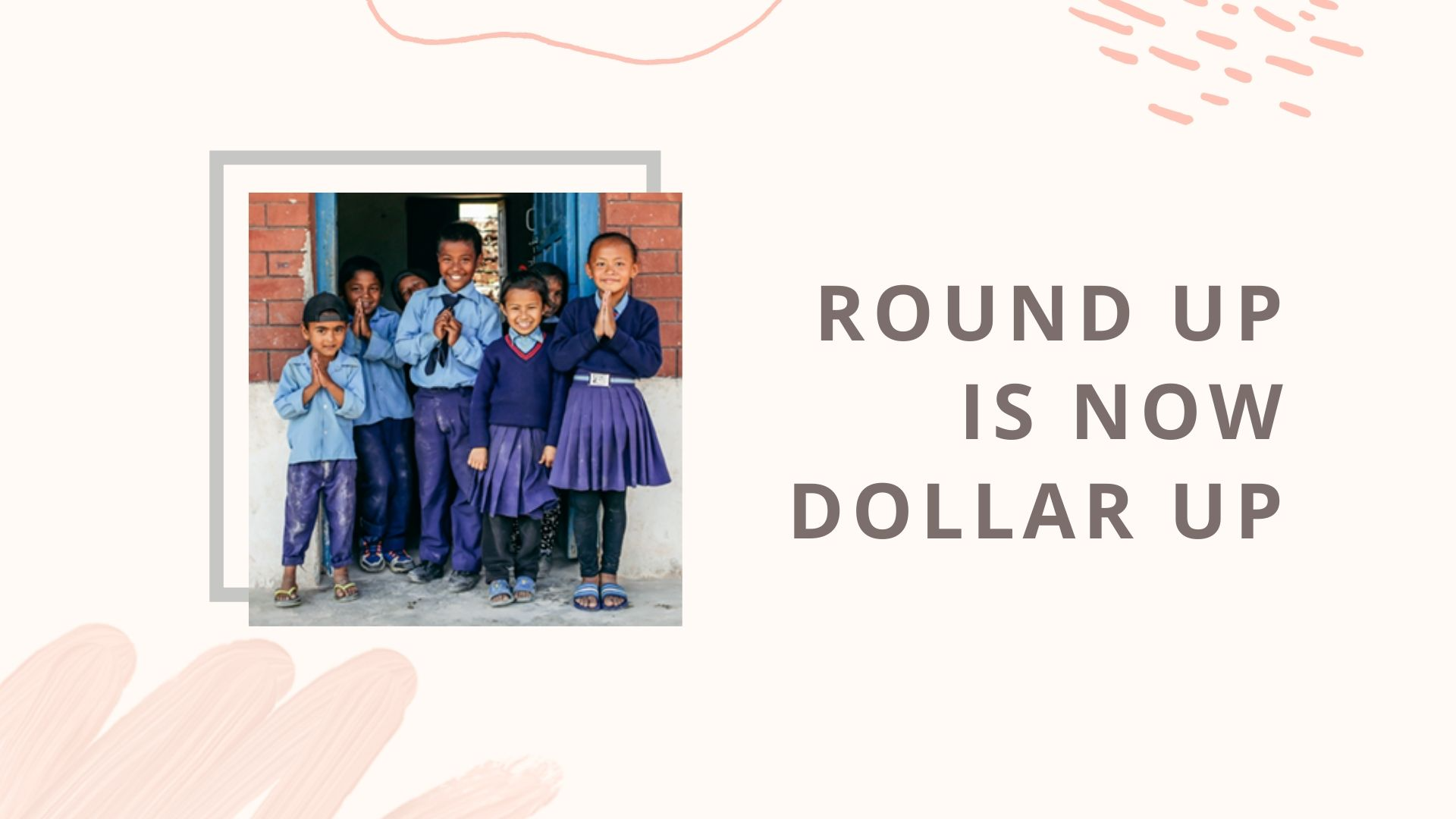 Round Up is now Dollar Up!
Did you know? Round Up has upgraded to Dollar Up for the U.S. market! This change gives you the chance to amplify your impact and empower more lives every time you place an order. You can add Dollar Up to your recurring Subscription to automatically donate or check the Dollar Up box on the Order Overview screen! Go here to learn more: https://www.younglivingfoundation.org/dollar-up
UPCOMING EVENTS & CLASSES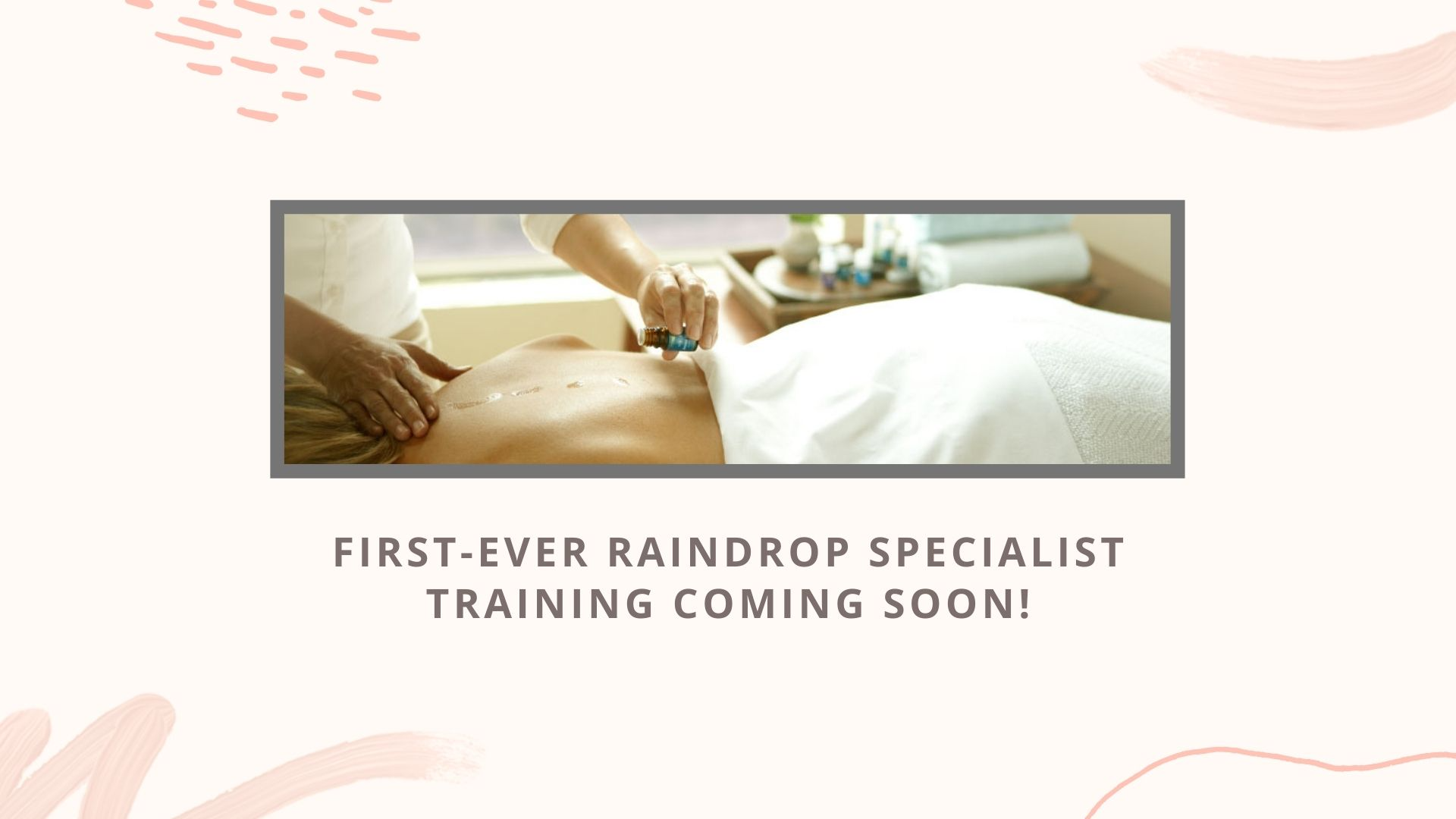 Global Raindrop Technique Training
Highland Flats Farm, Idaho, USA
September 10, 2021 - September 12, 2021
9:30 AM-3:00 PM
Young Living is thrilled to announce their first-ever global Raindrop Technique® Training at the Highland Flats Tree Farm and Distillery! This event is open to longtime Raindrop Technique practitioners, licensed massage therapists, and licensed health care professionals wanting to learn Raindrop as developed by Young Living Founder D. Gary Young. This will be a three-day comprehensive training for members wishing to become Raindrop specialists. Space is limited and the deadline to register is Friday, August 27th, so sign up soon. We look forward to seeing you there! Go here to register: https://web.cvent.com/event/9a1b774b-d109-4478-80e1-518c6b4a14d6/regProcessStep1
Featured Recipe
Did you know that August 20th is National Lemonade Day? Grab your Vitality oils and try this delicious drink to celebrate…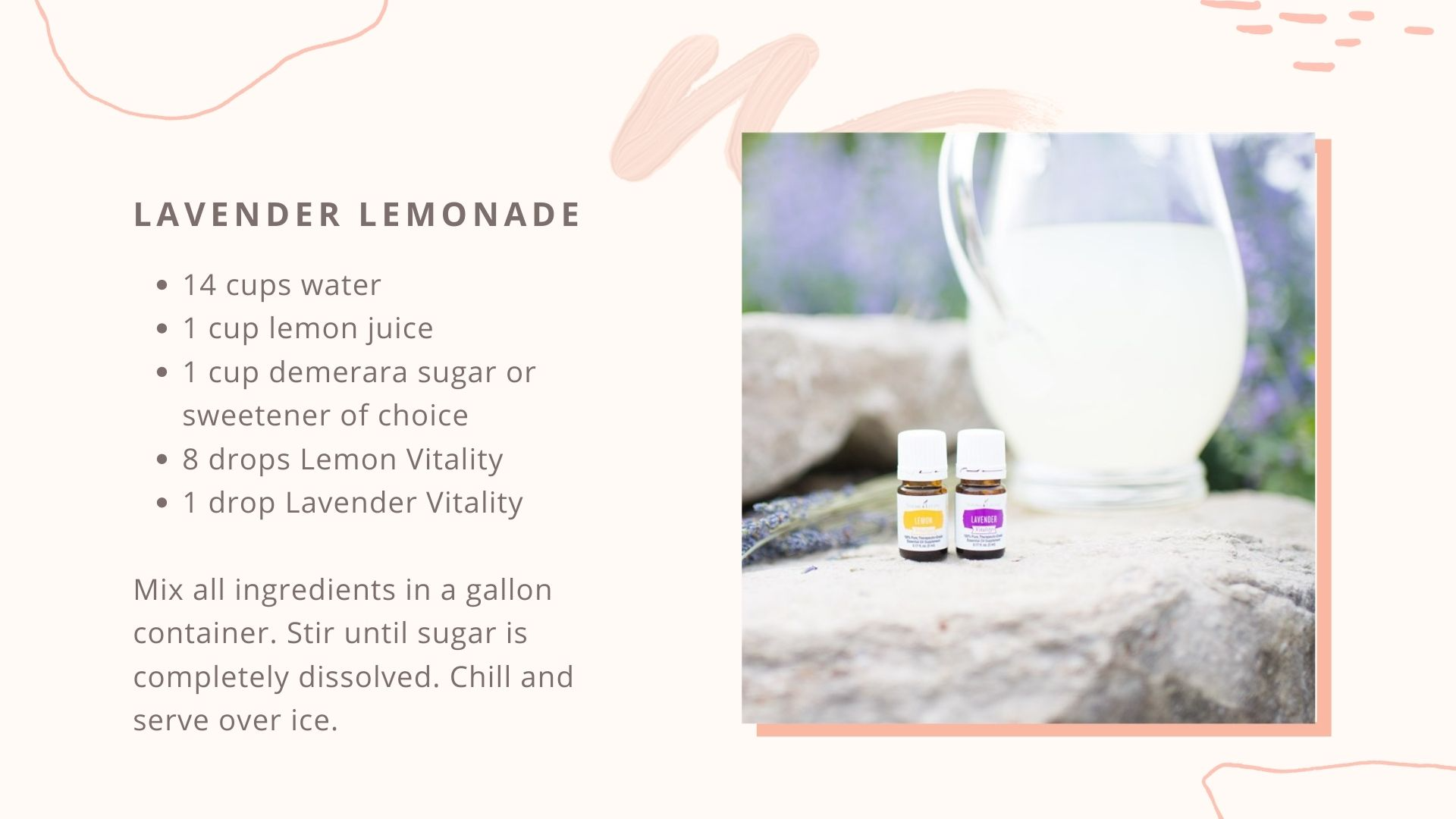 And did you know?
Lemon Vitality: Supports your digestive, immune and respiratory systems.
Lavender Vitality: Supports the cardiovascular and nervous system.
Featured Product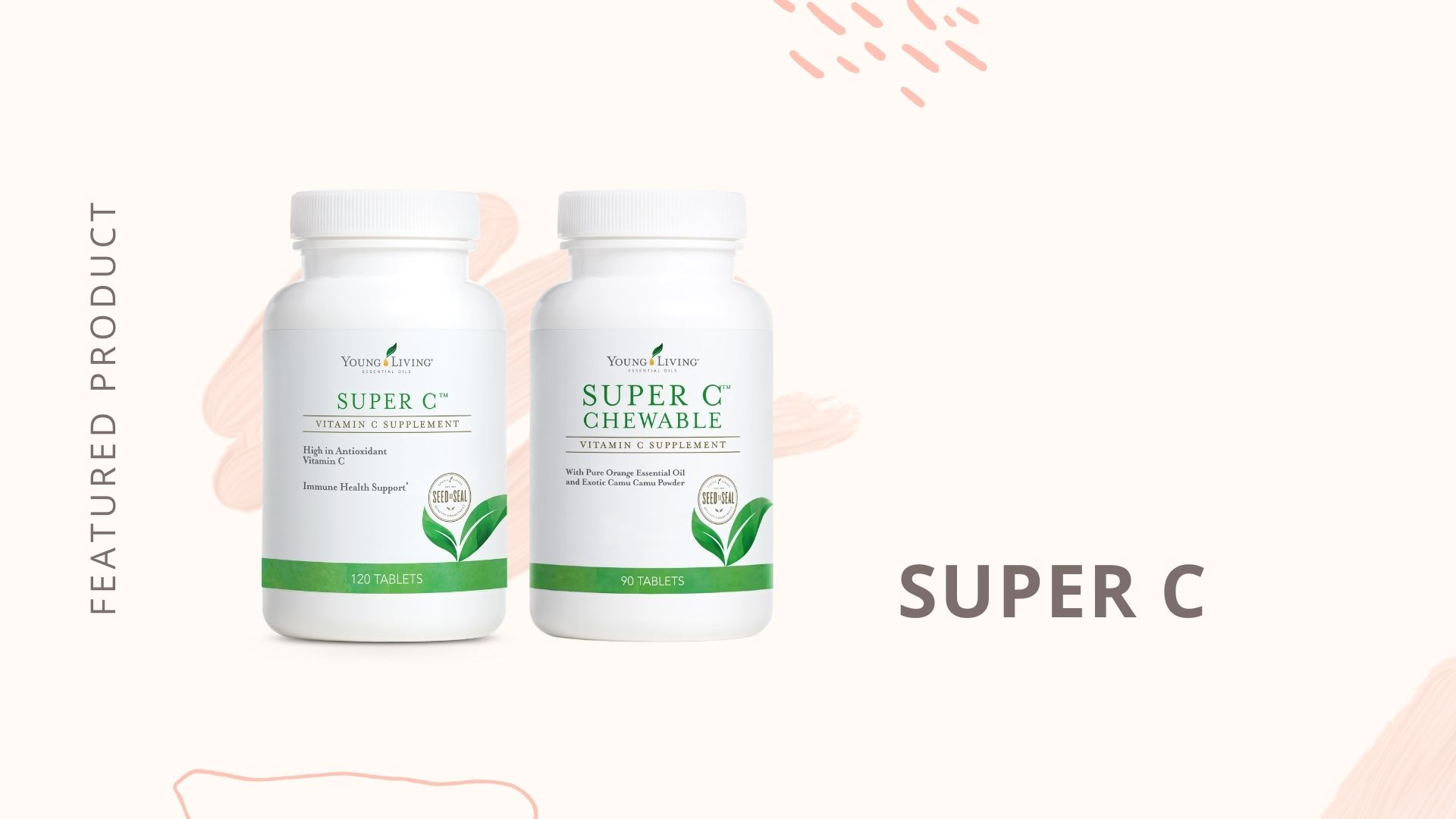 Super C
Because our bodies cannot manufacture vitamin C, we can benefit by consuming this powerful antioxidant daily. Conveniently, this one comes in a tablet and a chewable. The tablet is great for adults and older kids that can swallow pills. The chewable could be used for the younger kiddos, especially with the upcoming school year. Each one has their own unique amount of vitamin C - the tablet contains 1440% of the recommended dietary intake of vitamin C per serving and the the chewable contains 170% DV per tablet. The ingredients in Super C play a role in normal immune and circulatory functions, help to strengthen connective tissues, and promote overall health, vitality, and longevity.
---
Monthly Gifts with Purchase
When your order hits one of these PV levels you will receive the corresponding products for FREE! Look at everything you get for free when you hit 500 PV!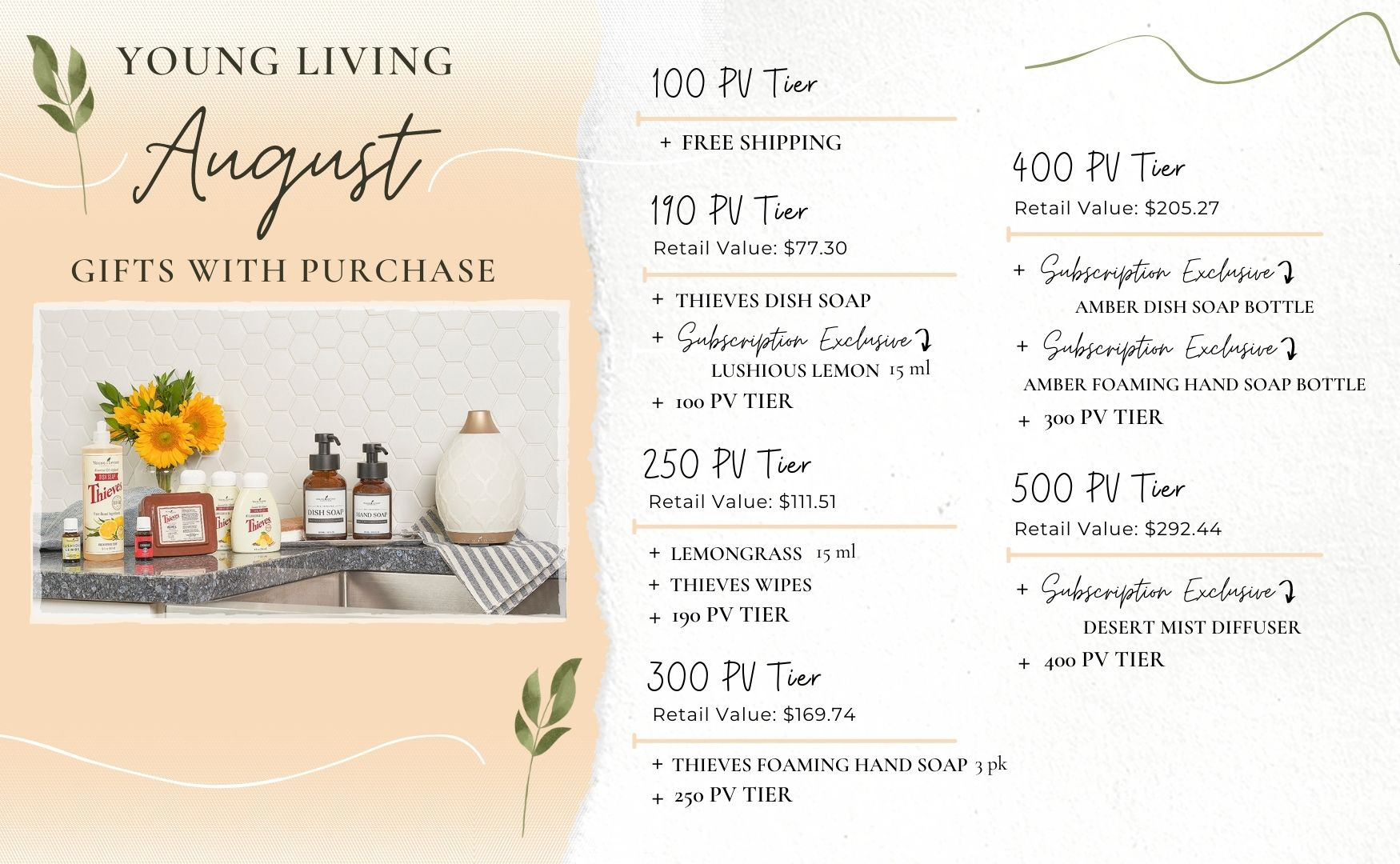 *Receive the Loyalty Rewards Exclusives when your order is placed through the monthly subscription program, which is the best way to save money and support your health. If you need more details on this, let me know!
BONUS RECIPES!
If you enjoy DIYS, here are some that I love:
Floral Cleanser - create a calming space as you clean
Monday Motivation Diffuser Recipe - everybody needs a jumpstart of their week
Welcome Fall Diffuser Recipe - Fall is around the corner, Iooking forward to cooler weather.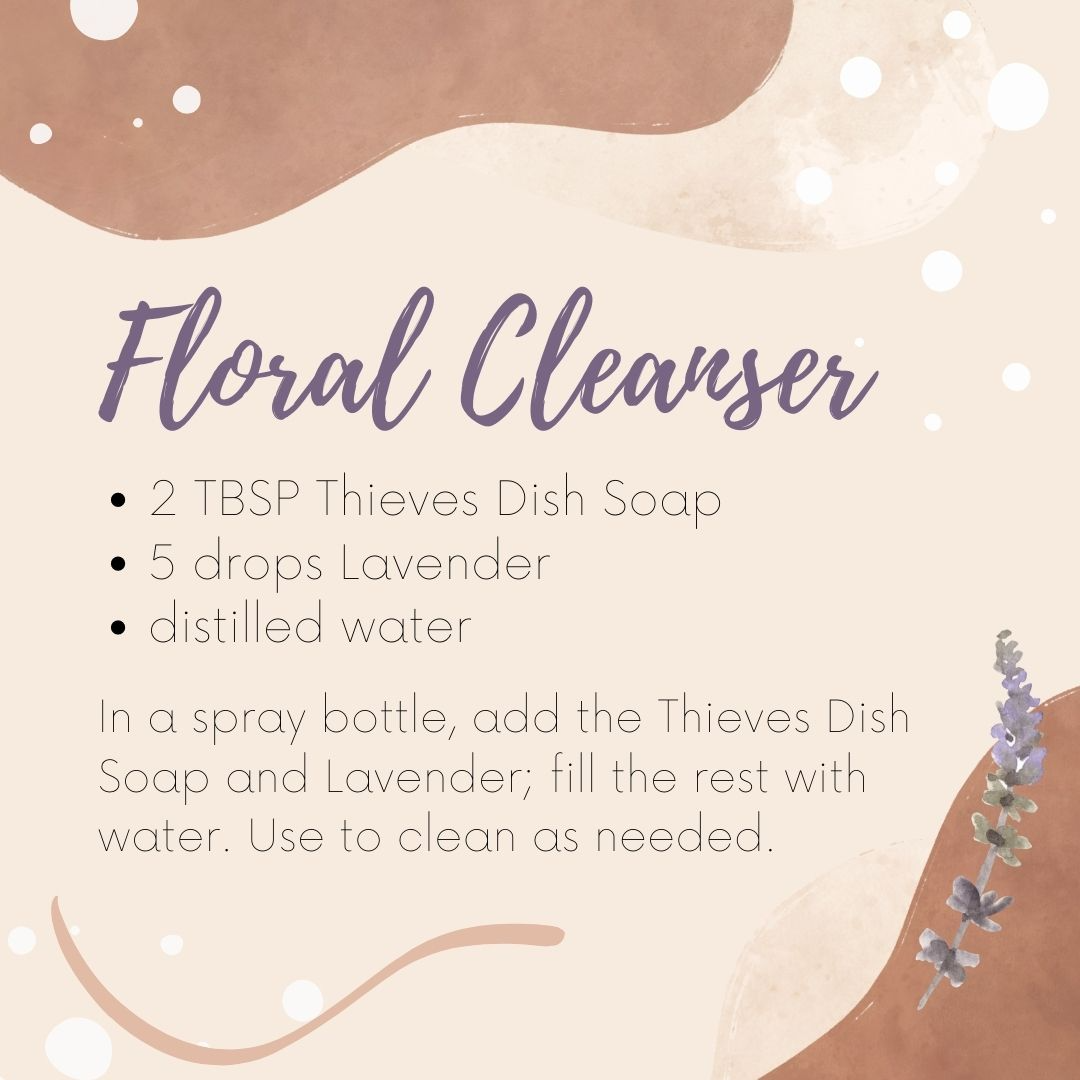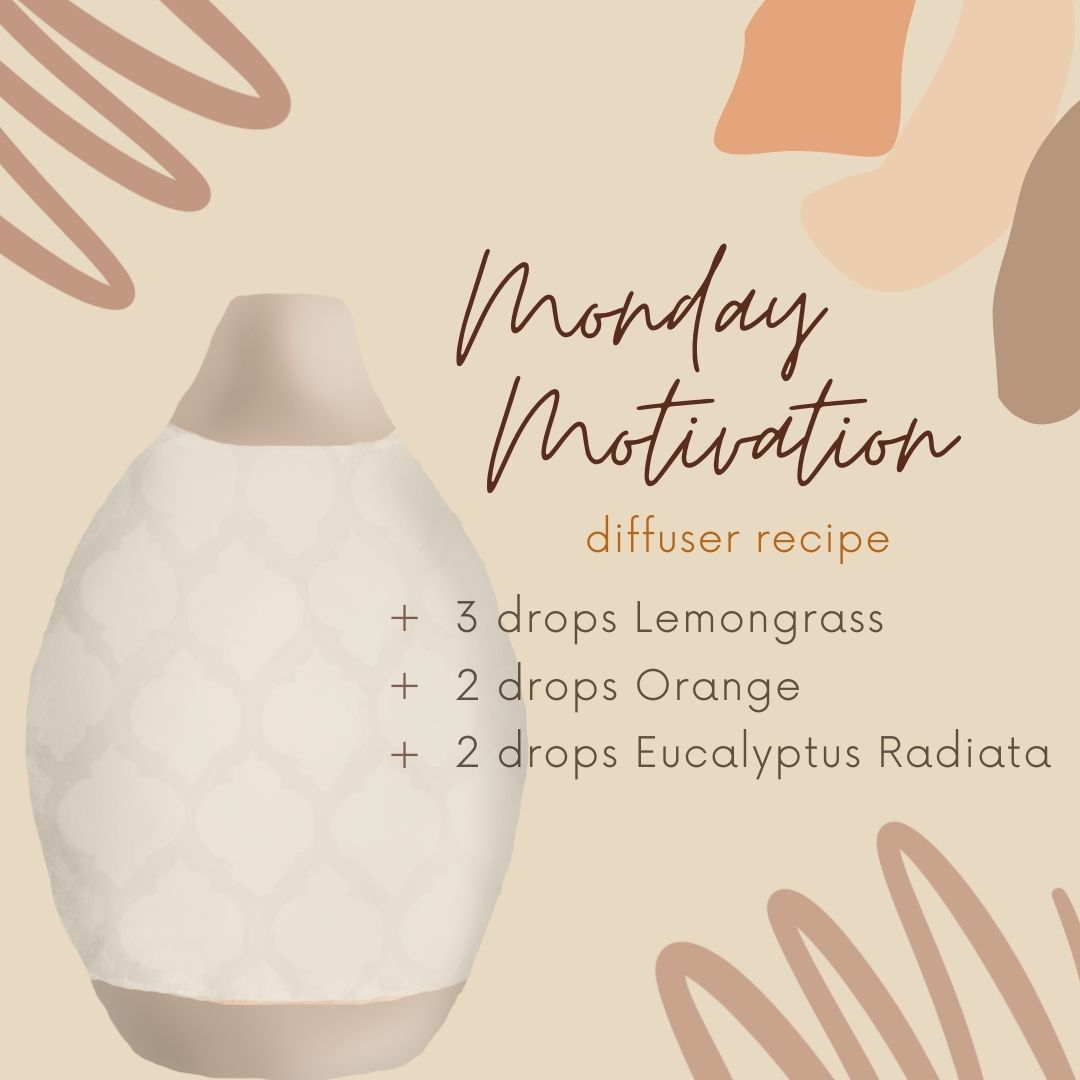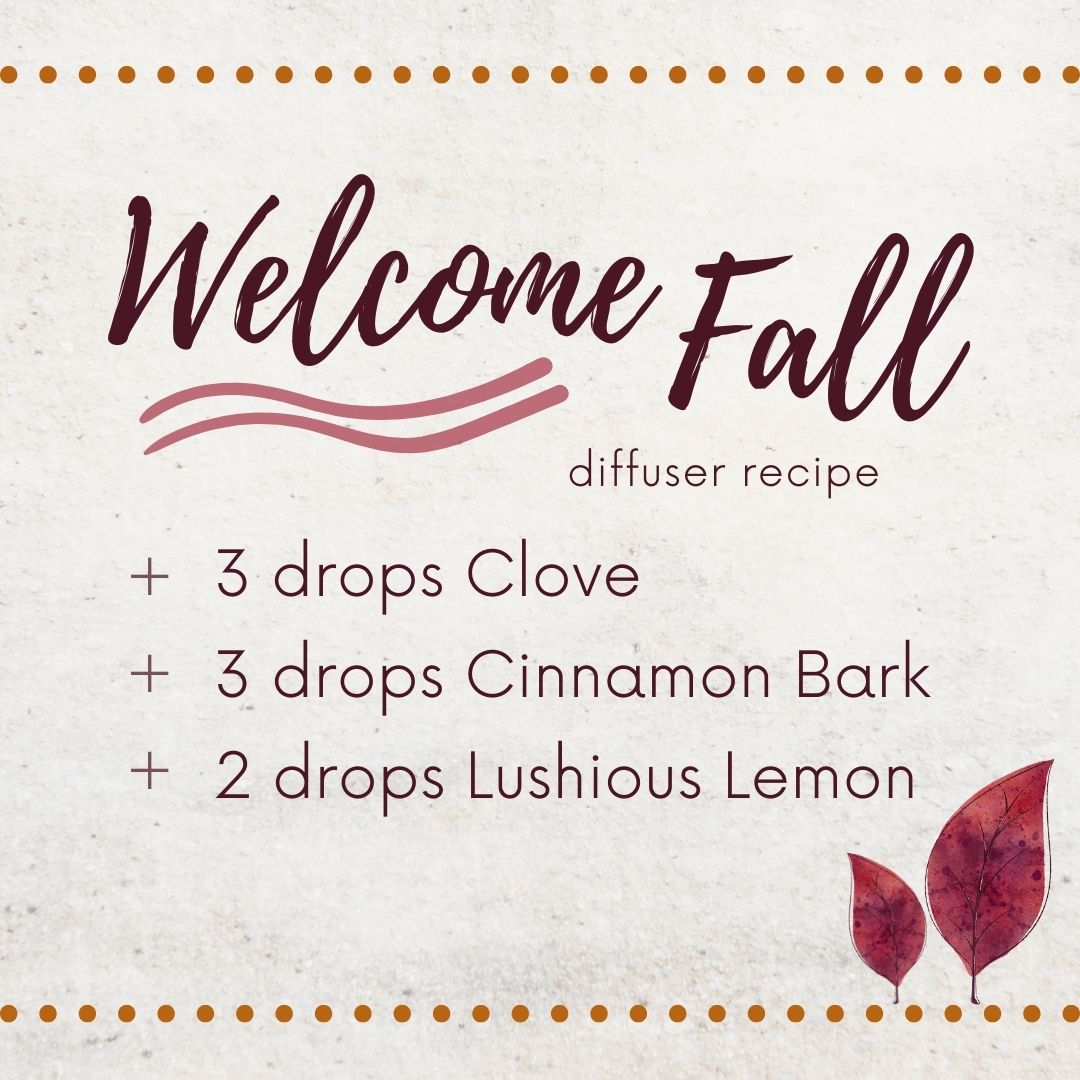 ~Karen