Dec 15, 2020 11:35 PM Central
Hi friends
Are you still doing some holiday shopping? If you need gift ideas, I have some DIYs you can create in bulk while utilizing whatever essential oils you have on hand. Not only can you give a heartfelt token of appreciation, but you can also share the joy of oils. They make great conversation starters!
5 Great DIY Essential Oil Gift Ideas For The Holidays
Try these amazing homemade gifts that you can whip up and share with all your loved ones. Spread the magic of essential oils with your family and friends in ways they will adore.
Exfoliating Body Scrub
This is such a luxurious shower treat your body will thank you for.
Simply mix 2 cups of coconut oil, 1 cup of Epsom salts (or use organic cane sugar for a more gentle scrub), and about 20 drops of your favorite essential oils – I enjoy doing this scrub with Lavender and YlangYlang.
This recipe isn't too specific, so it's okay to just guess how much Epsom salt or organic cane sugar to add based on how it feels.
Package it in mini glass mason jars and decorate with charming hand-tied bows before gifting.
All-Purpose Salve
Here are just some of the uses for an all-purpose salve:
-
Moisturize dry nasal passages
-
To soothe insect bites, minor burns, or rashes
This is how I make mine:
1.
I start by making a base. Melt 1 cup of coconut oil, 1 cup of organic olive oil, and 4 tbsp of beeswax pellets in a double boiler. I use a glass measuring cup so it's easy to pour. This should make four 4oz jars worth of salve base. Now to add the nourishing parts...
2.
Remove it from heat divide into four jars. Add 1/4 tsp of vitamin E oil to each serving. Don't add too much or it becomes a bit too runny.
3.
From there, you can use any essential oils you want based on what you'd like to use it for. Some fantastic options would be Lavender, Peppermint, Tea Tree, Lemon, YlangYlang, Copaiba, Rosemary, Eucalyptus, Joy, or Frankincense.
Please use caution when picking oils that may cause sensitivity to sunlight or those few oils that have a natural tint that may stain clothing.
Shower Melts
Try these in different silicone molds for giftable, fun shapes. Experiment with soothing aromas or rejuvenating combos! You'll need…
-15 drops of lemon essential oil
-10 drops of peppermint essential oil
-15 drops of lavender essential oil
1.
Mix together the baking soda, citric acid, and cornstarch in a small mixing bowl, breaking up any lumps. The baking soda and cornstarch help hold the shower bombs together, while the citric acid gives them that desirable fizz.
2.
Slowly add drops of the essential oils, mixing very well. Give the mixture a spritz of water, and then continue to stir and add drops of oils. Continue spritzing and stirring until the mixture resembles wet sand. You don't want a watery paste, but it should be spoonable.
3.
Once it's mixed, spoon it into the silicone molds. After a couple of hours, they should be holding their shape and you can gently pop them out to dry overnight. I find they don't fully dry on time when they're still in the silicone molds.
You can gift these in cute little organza bags or stylish mason jars!
4. All Natural Lip Balm
This one is so fun and customizable.
1.
Melt 4 tbsp of Coconut Oil and 2 tbsp of Beeswax Pellets in a double boiler. I used a glass measuring cup so that it would be easy to pour once they were melted.
2.
Once the oil and wax have melted together, remove from heat and add ½ tsp of Vitamin E Oil and stir.
3.
Add your choice of essential oils (I did 5-10 drops per batch but go light on peppermint or cinnamon until you know what you like). Maybe soothing Lavender oil or Vanilla with some Lime. Some popular choices are Grapefruit, Peppermint, or a bit of cinnamon oil for a subtle plumping effect!
5. Calming Rosemary Mint Linen Spray –
or whatever smells great to you!
You'll need a 2oz glass spray bottle for this one.
If you make a very large batch, my friend recommended recycling glass apple cider vinegar bottles and just purchasing a sprayer for the top.
1.
Mix about 2 tbsp of witch hazel with 5 drops each of Rosemary, Peppermint, and Lavender essential oil. I've also tried this with a citrus variety. During the winter months, I gravitate towards warm aromas like Christmas Spirit and Cinnamon.
-2.
Fill the remaining space in the bottle with distilled water, then replace the spray top. Shake the bottle to mix the ingredients.
Give the bottle another little shake before each spritz!
Nov 23, 2020 01:37 PM Central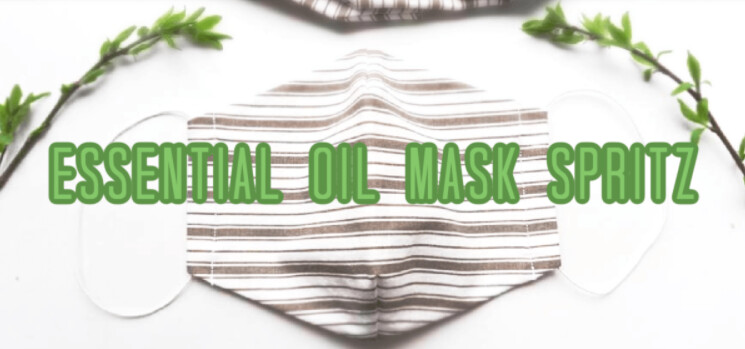 Like many others, wearing a protective face covering may have become a part of your routine lately. It's recommended by the CDC, but wearing a face mask isn't always a pleasant experience. Essential oils could help!
Make a diluted mask spray with a very fine mister and use it as an easy (and natural!) way to instantly refresh cloth face masks and support your overall well-being. Just a spritz can make running errands a little more pleasant, supportive, and hopefully a little less stressful too.
Here's what I used…
- 4 ounces distilled water
- 5-10 drops essential oil – the amount may vary based on your preferences or with the oil you choose, but I recommend starting lightly and increase the drops later if wanted.
Because oil and water don't mix, witch hazel acts as an emulsifier to help the ingredients combine.
Some oils and blends to try…
- Clove (this smells incredible with a little Orange mixed in)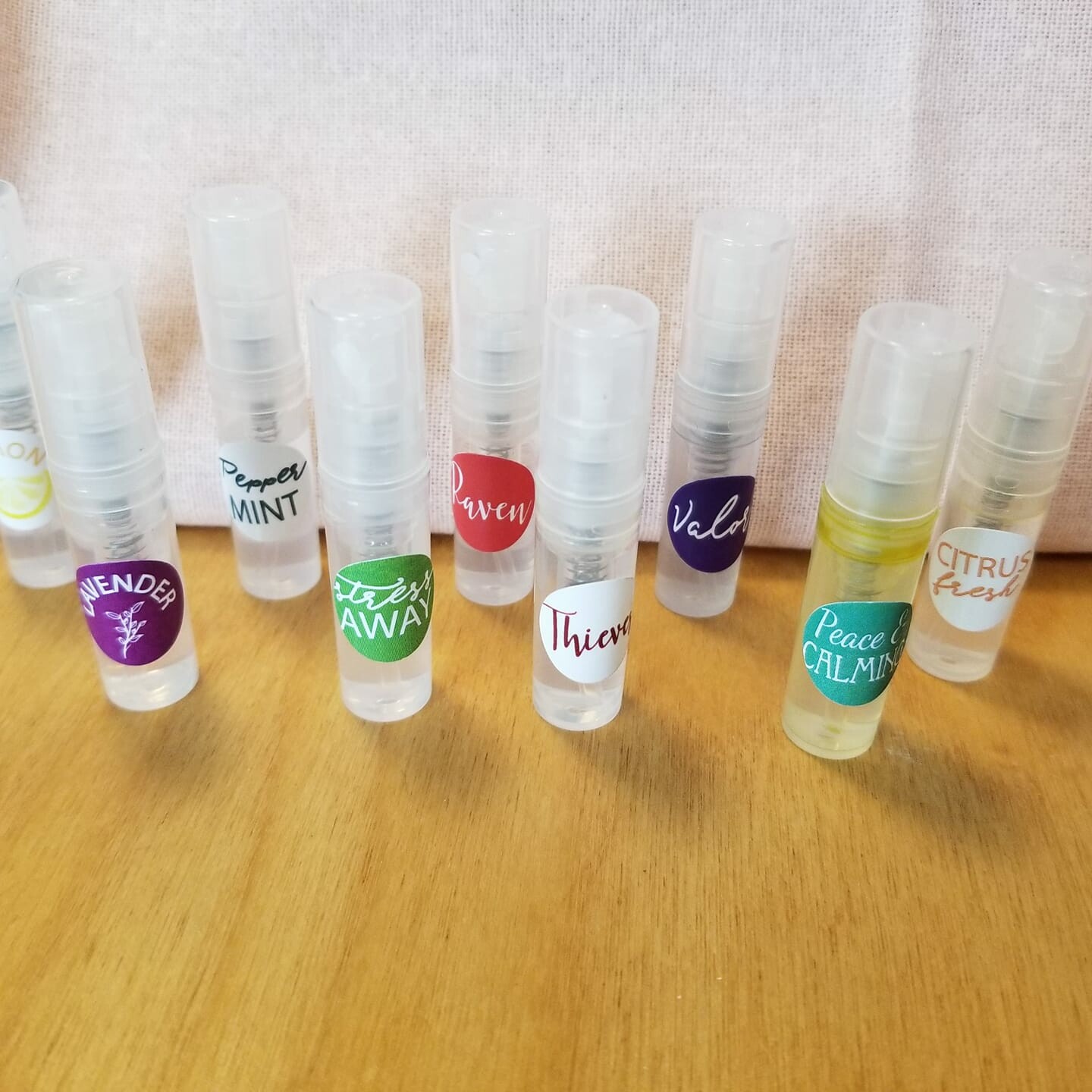 Oct 14, 2020 07:22 PM Central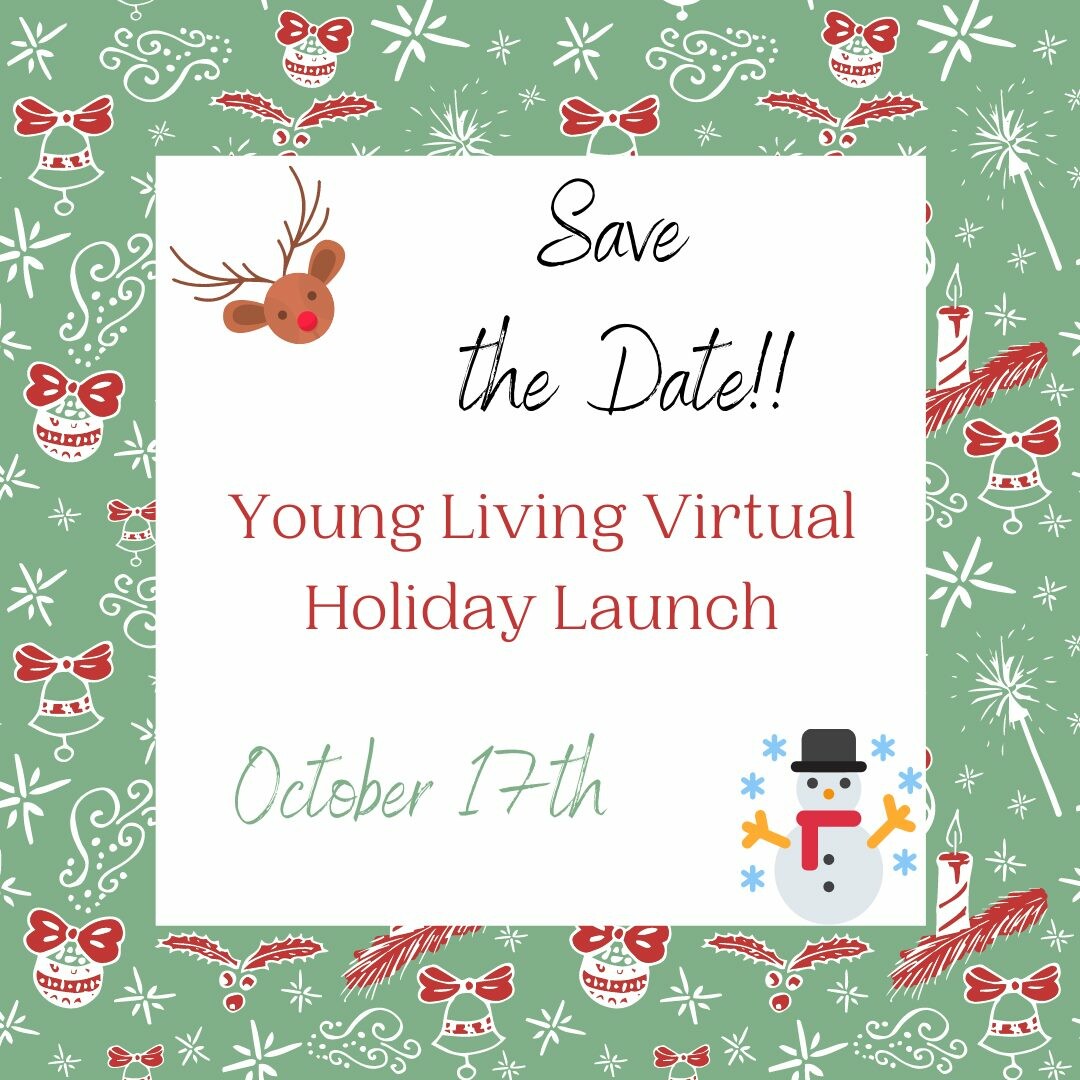 Cold weather means wool sweaters, warm mittens, and best of all, the Holiday Launch 2020!
That also makes this a time to gather a few virtual friends online to celebrate the season and share glad tidings of great gift giving! Come join us at our
Young Living Virtual Holiday Launch
on October 17 beginning at 12:00 noon EST
During the event, you'll get an early look at the 2020 Holiday Gift Guide, packed with new winter wish-list items and giftable goodies. You'll also be first to learn about this year's special bundles and unique handcrafted items.
So be sure to mark your calendar!