Apr 21, 2022 07:47 PM Central



Ahh, spring. Not too hot, not too cold—all you need is a light jacket! It's time to pack away coats and boots, swap scarves for sunglasses, and break out the springiest essential oils. These bright, floral, sweet scents are a great way to bring the fresh feeling of warmer weather into your home, whether you're using them in a custom spring diffuser blend or adding them to your cleaning products for bright spring cleaning! While you can use any of your favorite essential oils all year round, these are our recommendations for ushering in the warmth of spring after the chill of winter.
Essential oils for spring
How to use essential oils for spring cleaning
Give your home a fresh start when you elevate your spring cleaning with essential oils! Elevate carpet cleaning, sink scrubbing, and other household chores to a sensory experience with these spring essential oil tips.
Hit the refresh button with Purification.
Put a few drops of Purification® on wool dryer balls to keep laundry smelling sunny.
Stash Purification-soaked cotton balls at the bottom of garbage cans.
Diffuse Purification in the car for a springy scent wherever you go.
Deep clean your bathroom with Tea Tree.
Make a scrub with 1 cup of baking soda, ¼ cup of liquid soap, and 10 drops of Tea Tree. Scrub-a-dub the bathtub, shower, sink, and toilet with a washcloth or scrub brush.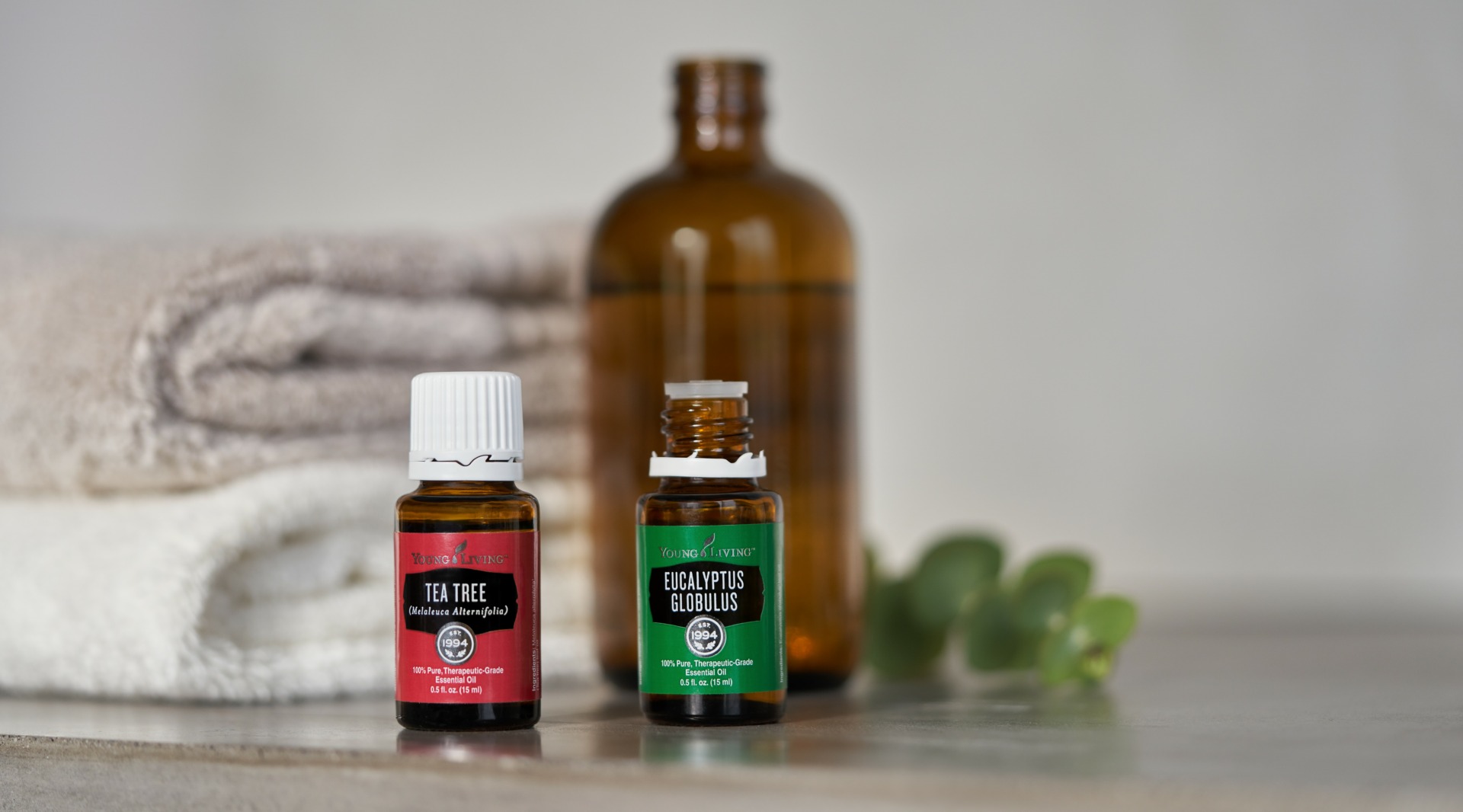 Add a fresh touch to carpets and rugs with Rosemary and Eucalyptus Globulus.
Add 2 drops each to 1 cup baking soda. Sprinkle over carpets, wait an hour or two, and vacuum up.
Give linens a spring-inspired spritz.
In a spray bottle, mix 4 ounces of distilled water, 2 ounces of witch hazel, and up to 45 drops of essential oils. Shake and spray on bedding, curtains, or anywhere that needs a lift.
We love combining Bergamot, Rosemary, Manuka, and Spearmint, but we'd love to see your creativity—tell us your favorite linen spray combo in the comments!
Freshen up your cleaning products.
How to use spring essential oils in your beauty routine
Wipe off the winter weather! Give your daily routine a spring clean, so you can face the day with a dewy glow.
Kick back with German Chamomile and Frankincense.
Treat yourself to an inspiring soak by adding 10–15 drops of these essential oils to our Bath & Shower Gel Base. Stay tuned for an upcoming blog post for more ways to use essential oils in the bath.
Reveal glowing skin with Manuka and Lavender.
Apply a drop or two with your daily moisturizer.
Maintain your mane with Jasmine.
Add a few drops to your favorite hair products or DIY hair mask for nourished, shiny hair and a rich, sultry, floral aroma.
Create a floral perfume.
Combine 1 drop each of Ylang, Geranium, and Bergamot with 3 drops of V-6™ Vegetable Oil Complex. Apply to your wrists and neck for a complex floral fragrance that you can enjoy throughout the day.
Apply a drop to a cotton ball and apply to spots and blemishes to take advantage of these oils' cleansing properties.
To maintain a healthy-looking complexion, make your own DIY Tea Tree face toning serum.
Face down your day with DIY body sprays.
Use one of our DIY body spray recipes or tweak to create a fragrance that is 100 percent you.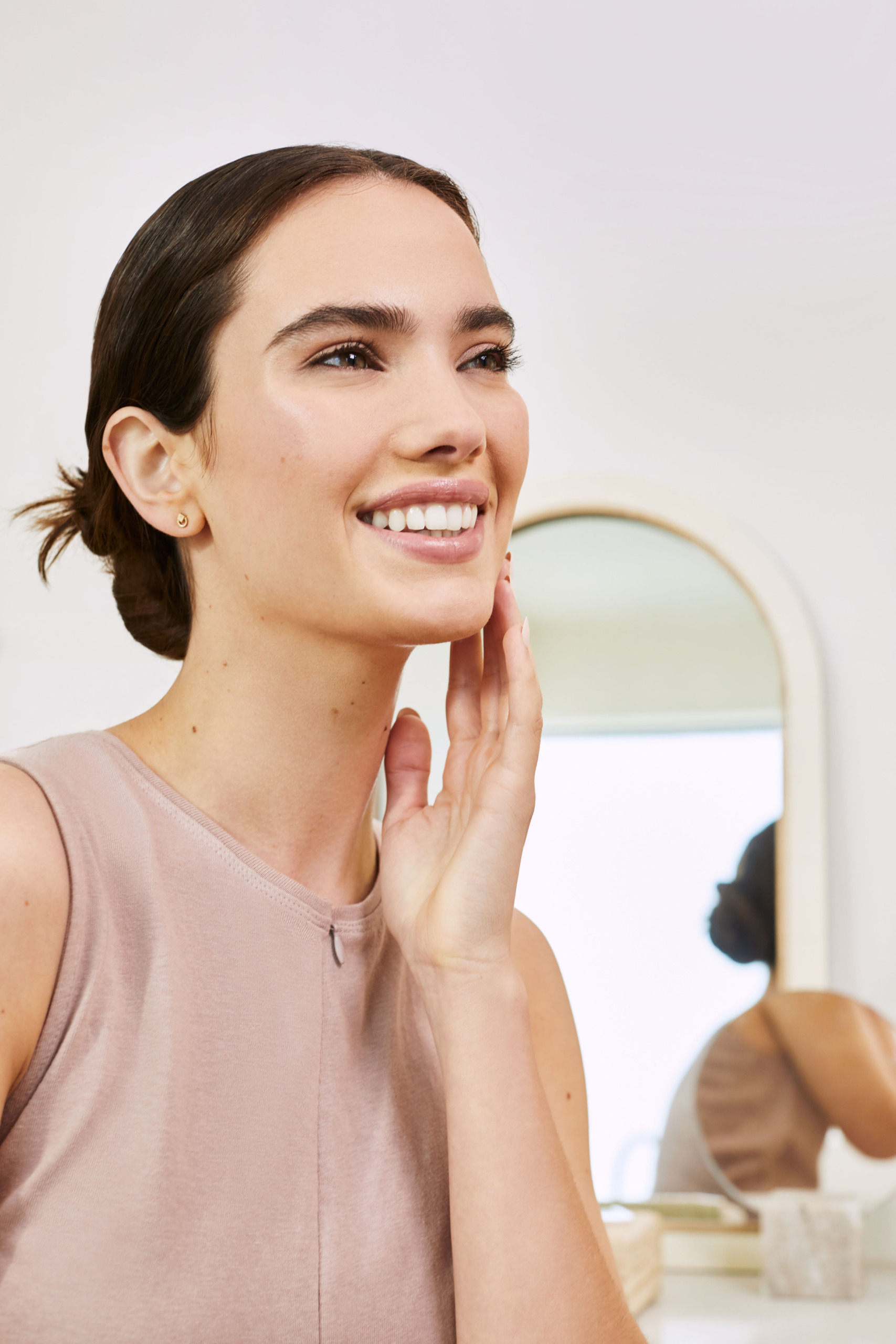 How to use spring oils in your recipes
One of the best parts of spring is the resurgence of fresh fruits and vegetables that add vibrant colors and flavors to your plate. Dig into these essential oil-infused tips for can't-miss culinary tips.
Elevate your veggies with Vitality oils.
Steamed carrots, peas, or asparagus pair well with a single drop of Basil Vitality™ or Thyme Vitality™.
Fire up the grill.
Toss apricots or pineapple with a bit of a neutral vegetable oil and add a drop of Basil Vitality™, then turn up the heat. Serve over a bed of arugula.
Dip into it.
Mix 1 drop of Parsley Vitality™ with 2 tablespoons tahini. Add it to roasted potatoes, dip artichokes into it, or use it as a salad dressing. Seconds are a must!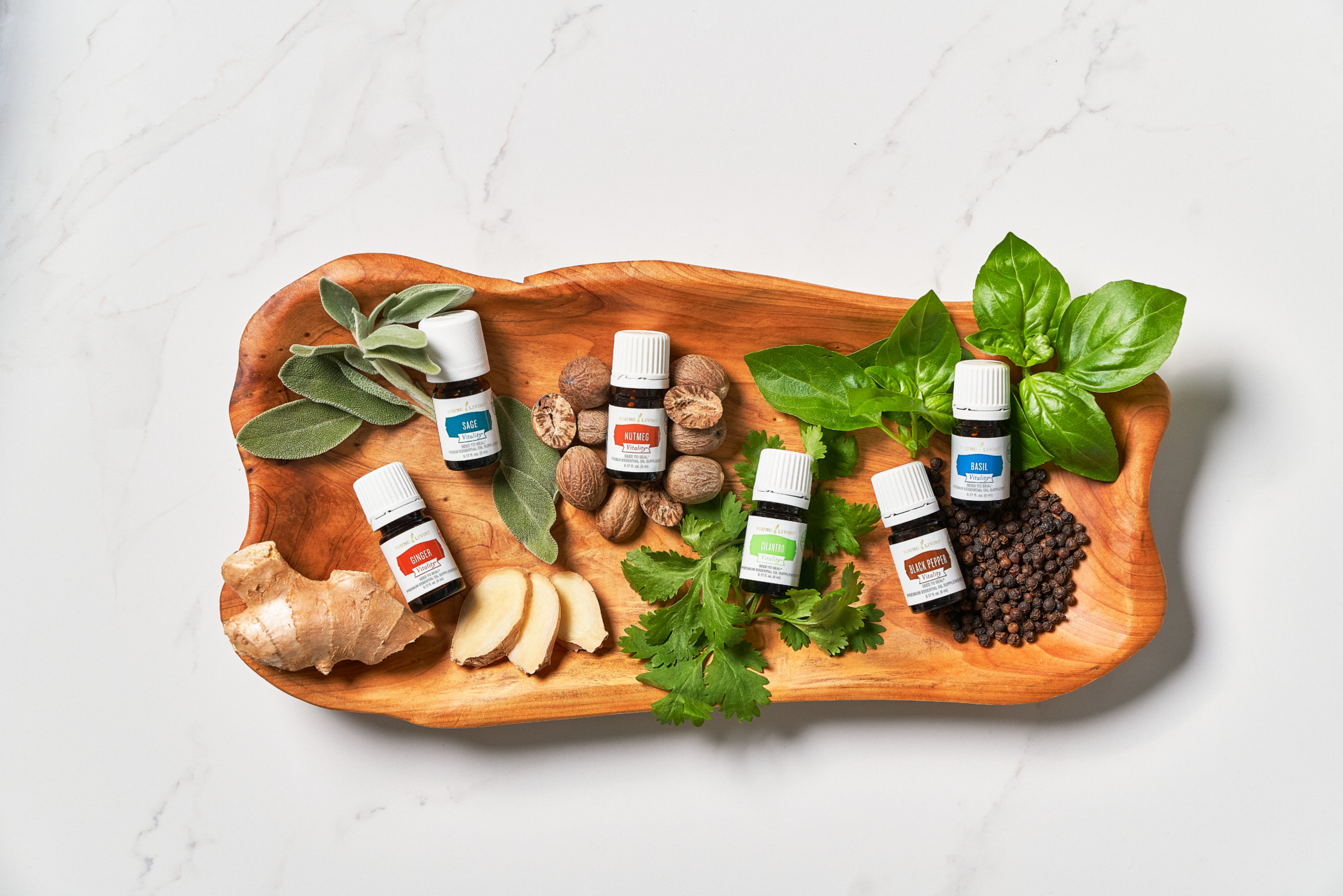 6 spring diffuser blends
Fresh, new essential oil diffuser blends? Yes, please! Capture the essence of spring with these blends.
Crisp and Clear diffuser blend
Purification, Eucalyptus Globulus, and Tea Tree essential oils smell clean, fresh, and awakening—a touch of citrus from Tangerine essential oil gives this diffuser blend a real lift.
3 drops Purification oil
1 drop Eucalyptus Globulus oil
1 drop Tea Tree oil
1 drop Tangerine oil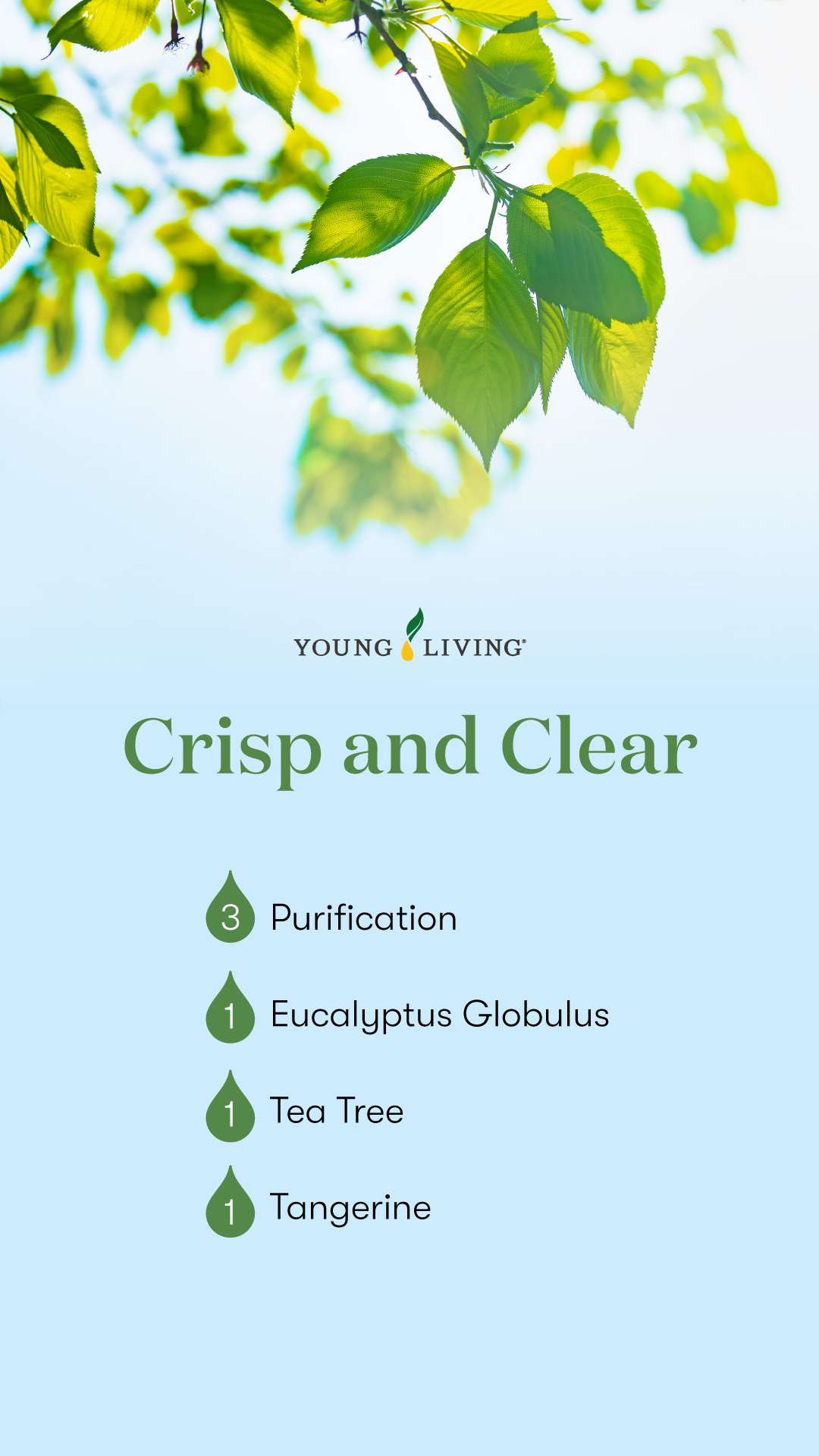 Sweet Springtime Renewal diffuser blend
Combining aromas that are clean, relaxing, and romantic, this blend brings together three favorite essential oils—Grapefruit, Lavender, and Ylang Ylang—for a uniquely uplifting experience.
3 drops Grapefruit oil
3 drops Lavender oil
3 drops Ylang Ylang oil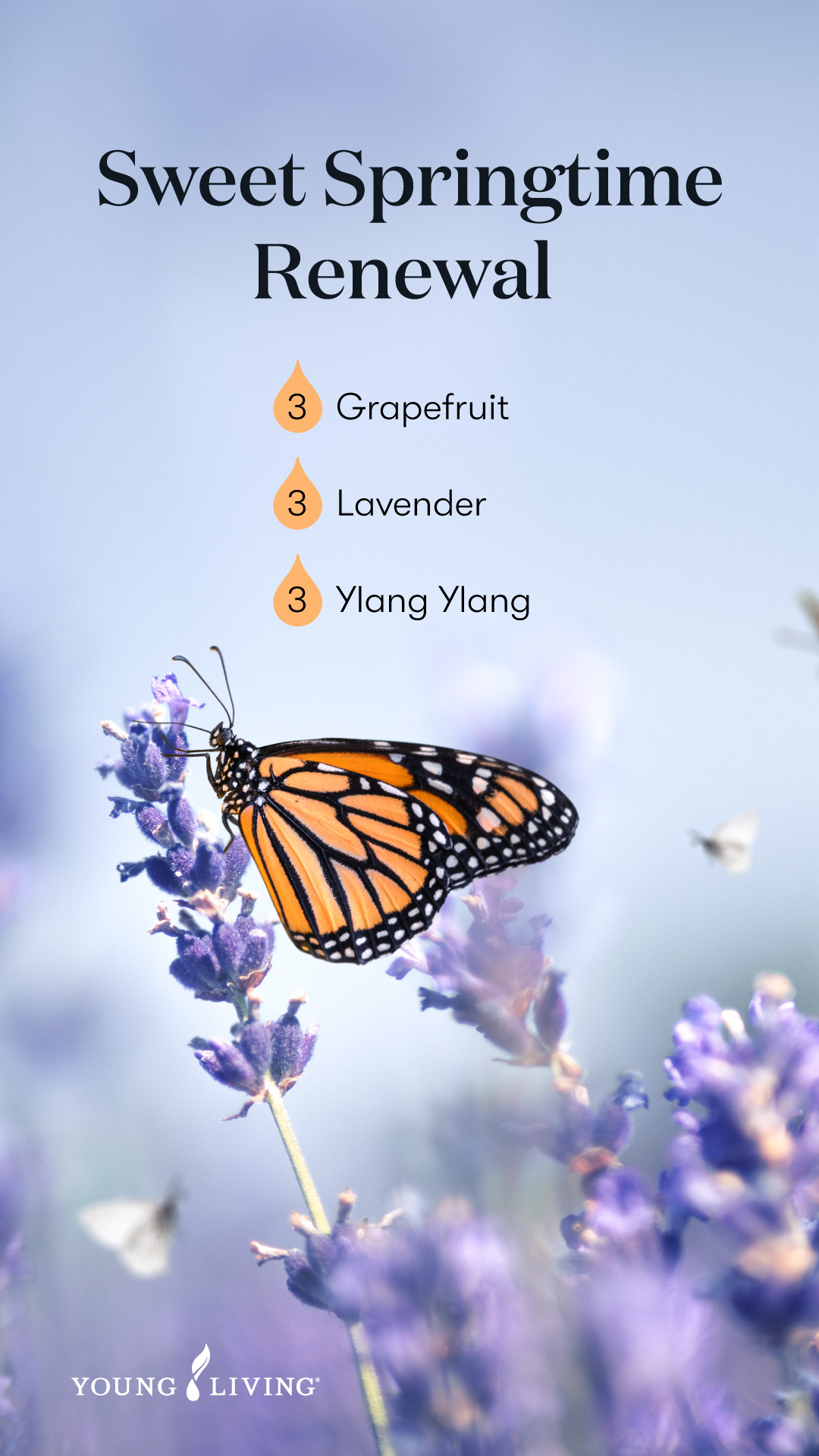 Raindrops on Rosemary diffuser blend
Rosemary gives this blend an herbaceous freshness, while Purification and Spearmint make it spirited and bold. A tangy Tangerine twist makes this aroma a must-have in kitchens and dining rooms.
3 drops Rosemary oil
2 drops Purification oil
1 drop Spearmint oil
2 drops Tangerine oil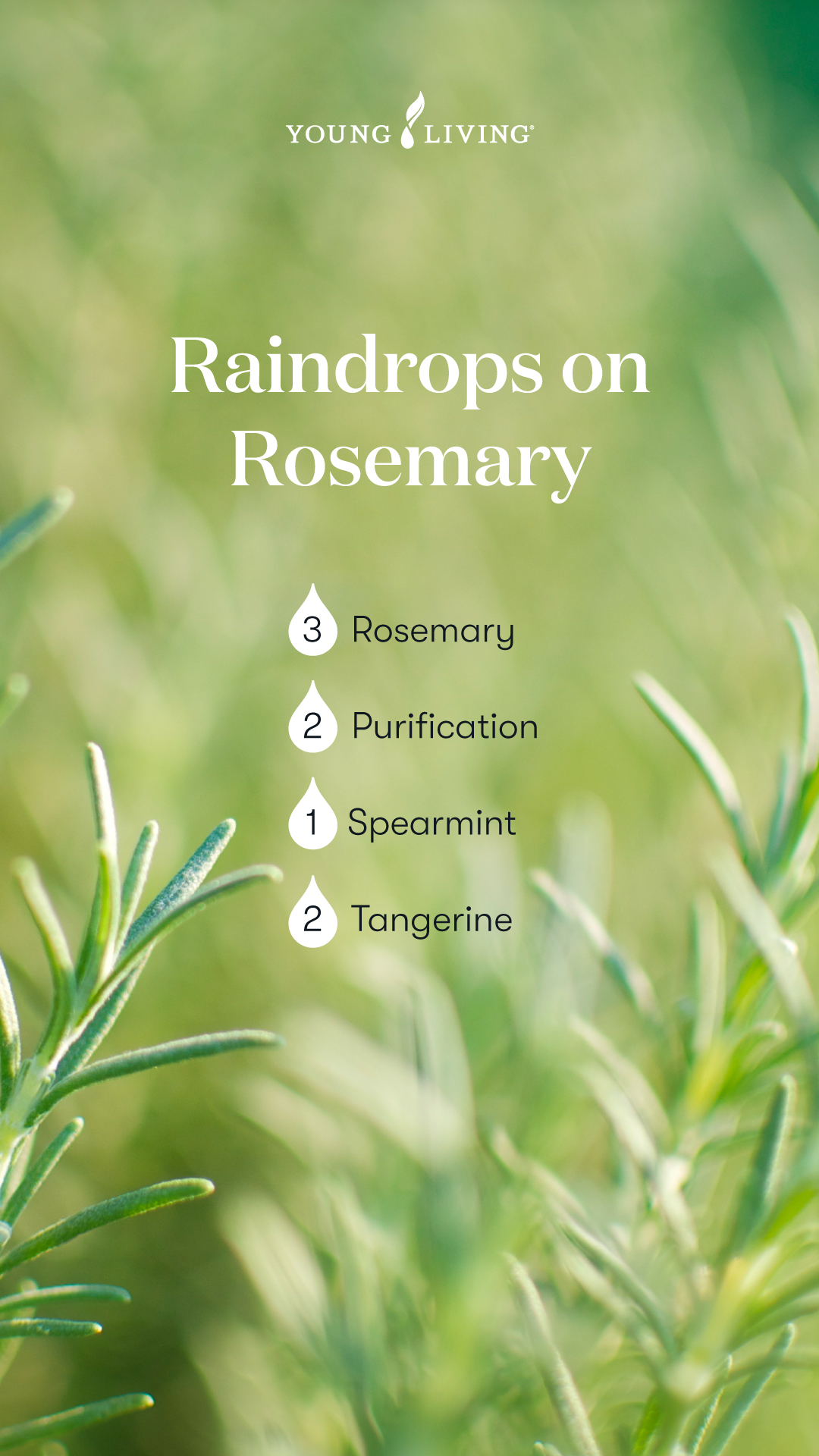 Down to Earth Spring Floral diffuser blend
Manuka and Bergamot blend to create a light, airy aroma, while Frankincense and German Chamomile bring things back to earth.
2 drops Manuka oil
2 drops Bergamot oil
2 drops Frankincense oil
2 drops German Chamomile oil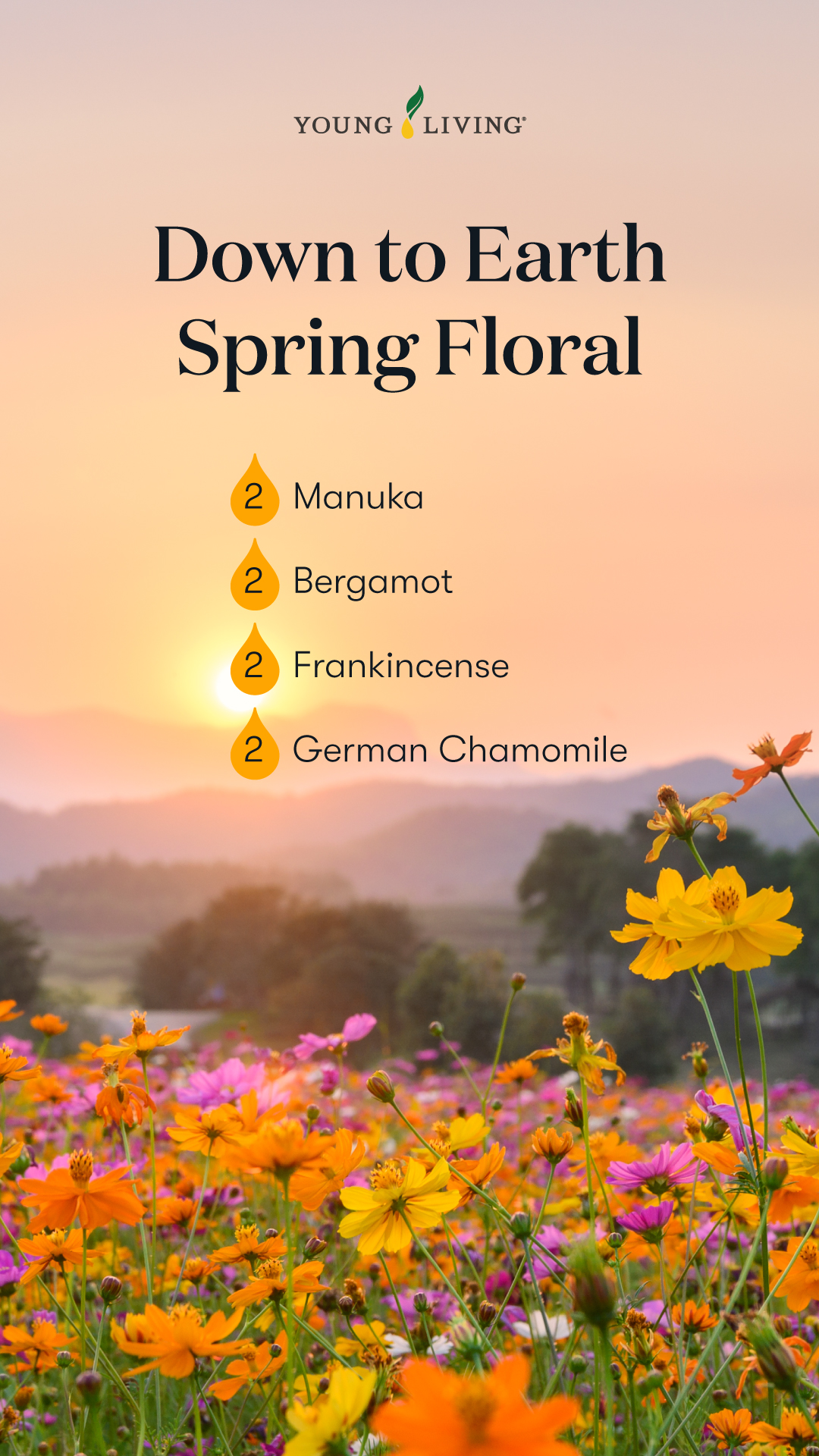 Changing of the Seasons diffuser blend
Welcome the changing season with this blend of soothing Lavender, uplifting Lemon, and invigorating Peppermint.
3 drops Lavender oil
3 drops Lemon oil
3 drops Peppermint oil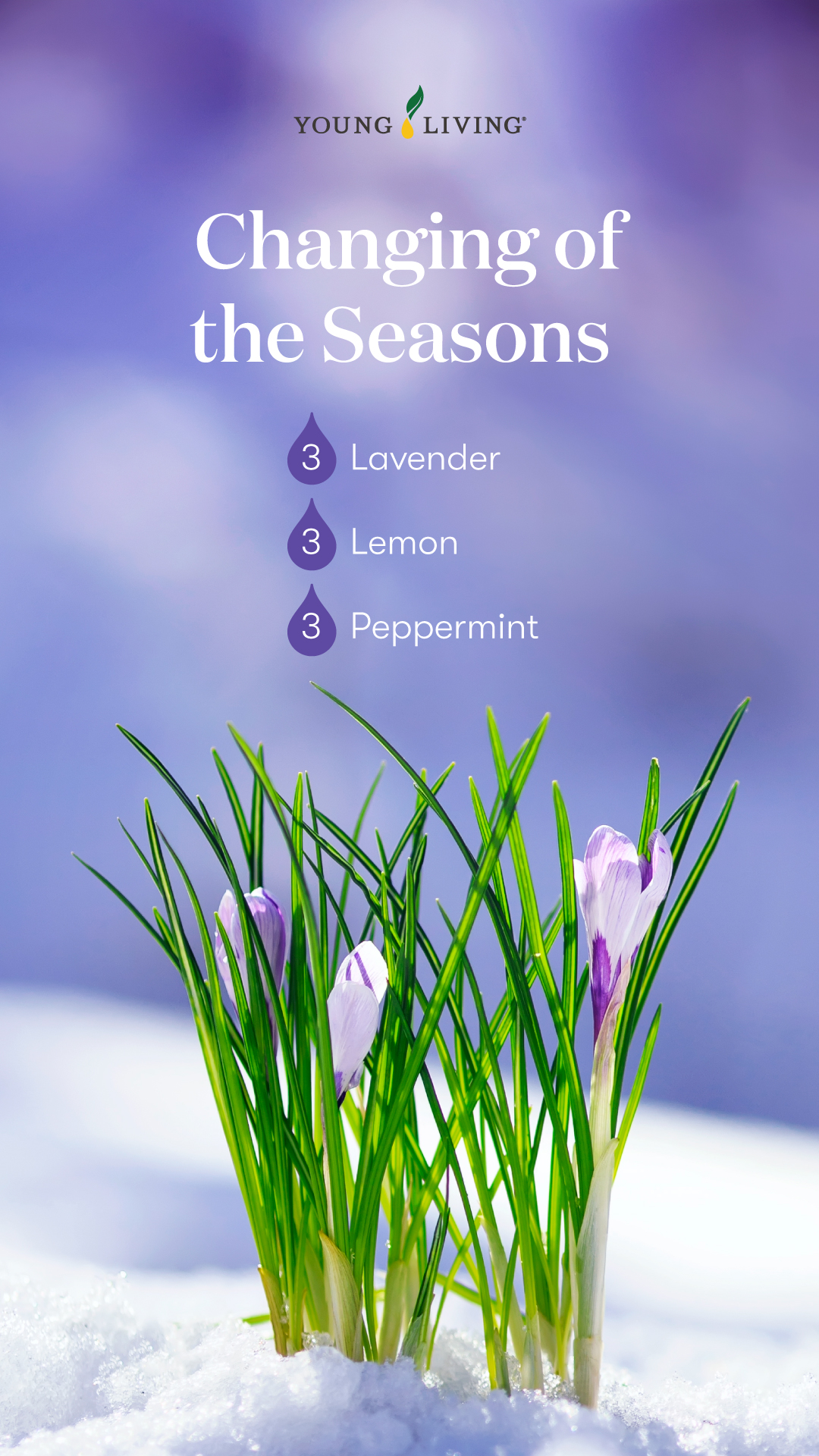 Spring Blossom diffuser blend
With the invigorating aroma of Eucalyptus Globulus and Peppermint and hints of Jasmine's floral sweetness, this rejuvenating blend is perfect for bright spring mornings.
3 drops Eucalyptus Globulus oil
2 drop Peppermint oil
4 drops Jasmine oil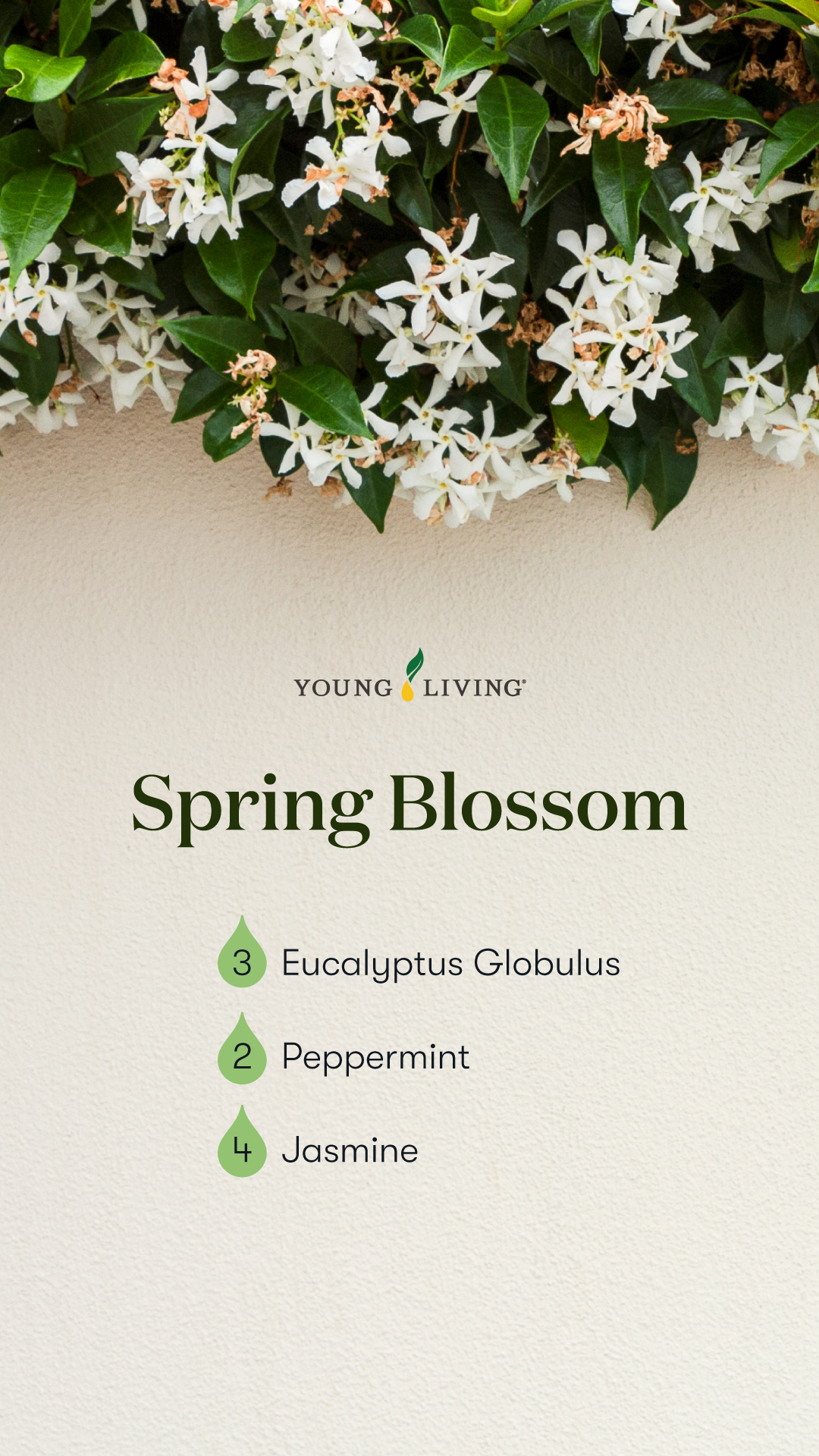 The change in the seasons is such an important time that helps us to feel grounded and connected to the earth, but it's easy to forget when most of us spend so much time indoors. We hope these spring diffuser blends, culinary secrets, and cleaning tips will help you to connect to the scents and tastes of the season this year. Happy spring!